6th January 2019 (PST) –
Cerevo's ORBITREC The Titanium 3D Printed, Integrated Sensor Mounted,
Prestige IoT Bike
Limited production of 10 units worldwide
Exclusive Owners Will Experience a Unique Riding Experience
Cerevo Inc., an Internet connected consumer electronics manufacturer based in Tokyo, Japan, will be exhibiting and demonstrating ORBITREC, a connected road bike with advanced internal sensors and a 3D printed frame at CES 2019 to be held from 8th to 12nd January 2019 in Las Vegas. There will be a Touch and Try area where visitors can actually ride the ORBITREC bike and experience its performance, visitors can also check out the companion mobile app at Cerevo's booth.
Cerevo today announces that ORBITREC's price will be 140,000 US dollars per unit for this fully custom-made bike. By taking precise measurements of your body Cerevo will design the frame to the owner's exact size and produce it using 3D printer technology, resulting in a bike made exclusively for each owner. The price includes travel and accommodation expenses to Japan to take measurements for your custom frame and also delivery of the bike to you in Japan after completion. We would like to invite you to Japan for this special trip to experience receiving an IoT bike that has been made uniquely for you. Cerevo believes this is a unique opportunity and perfect for rare bicycle collectors and racing bike enthusiasts.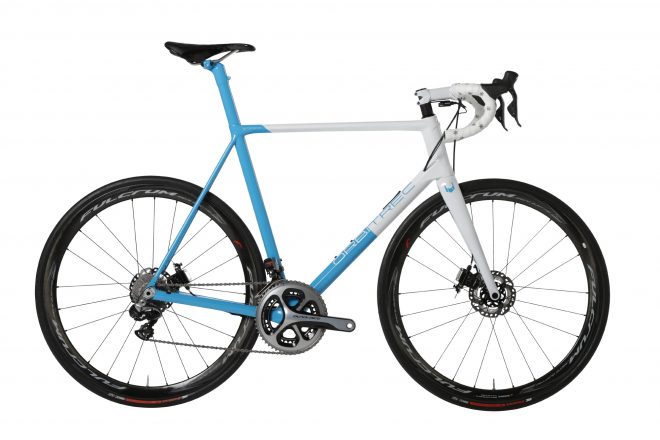 XON ORBITREC
https://orbitrec.cerevo.com/
ORBITREC was produced by Triple Bottom Line (designer Satoshi Yanagisawa's design unit) DMM.make AKIBA and ABBALab. Originally developed from the concept model DFM01, ORBITREC was born from this collaboration. To enable a customized frame to perfectly fit each individual owner, a 3D printing process combining sintered titanium and carbon fiber tubes has been developed. The customized lightweight frame can be used for personal or professional riding.
Various sensors are built into the bike's frame, which can receive and send information, creating a ride log while cycling. The big data obtained by ORBITREC and RIDE-1, Cerevo's smart riding recorder, is then analyzed in the cloud to further help and record your riding. You can also connect to ORBITREC through its companion smartphone application.
ORBITREC features a 9 axis sensor (acceleration, angular velocity, geomagnetism), temperature, atmosphere and illuminance sensors as well as GPS. In addition to basic information such as riding location and velocity, frame status such as lean and impact can be recorded. When combined with the GPS sensor this creates a detailed riding log history that can easily be viewed at any time.
Users can also make the most of the data of other ANT+ compatible sensors by connecting smartphones via Bluetooth.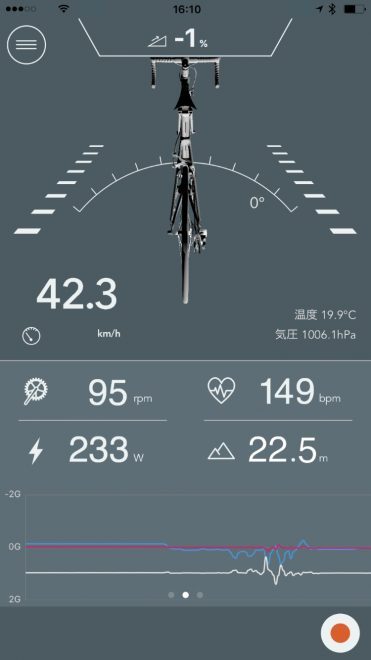 ORBITREC's (RIDE-1's) companion smartphone app Telemetry function (image)
This product has been made using 3D printing technology and uses 3D printed sintered titanium joints. As a result, it was possible to mass produce parts with sufficient practical strength using a 3D printer.
RIDE-1 features the same sensors that are built into ORBITREC. By attaching RIDE-1 on an
existing road or cyclocross bike user can experience similar functions to ORBITREC.
Specifications
Dimensions
TBA
Weight
TBA
Sensors
9 axis sensor (acceleration, angular velocity, geomagnetism), temperature, atmosphere, illuminance, GPS
Bluetooth
4.1(Low Energy)
ANT+
Equipped
Wireless LAN
IEEE 802.11b/g/n
Charging port
Micro USB
Ride time:
15 hours
Application OS support
iOS 9.0 or greater, Android 4.3 or greater
Price
US$140,000
* Including travel and accommodation expenses to Japan
* Subject to change during development
---
Cerevo @CES 2019 Booth Information:
Exhibition Period: 9th to 12th January 2019
Cerevo USA LLC Booth: Sands Expo, Level 2, Halls A-D – 434101
Booth Locations: https://www.ces.tech/Show-Floor/Locations
CES 2019 Details: https://www.ces.tech/
Press Images
A selection of high-resolution images can be found at the link below.
http://cerevo.com/ces2019
About Cerevo's Other Two More XON Products Announced, please see;
Press Release: https://info-en-blog.cerevo.com/
---
About Cerevo
Cerevo Inc. was founded in 2008 and is located in Tokyo, Japan with a branch office in
Redmond, WA, USA.evo is a small batch company focusing on making unique networked
devices and connected solutions for both consumer and professional users based on its "Global Niche" concept. Cerevo's products have been recognized globally and are sold in more than 80 countries.
Over 25 products have been released including, the LiveShell series – devices to enable live
streaming on Ustream and YouTube Live using only a video camera, LiveWedge – a 4 input
HDMI switcher with live streaming capabilities, Tipron – a smart robot projector for homes or businesses, and the XON series of smart sports products. For more information, please visit – http://cerevo.com
Press Contact:
Global Communications,
Cerevo Inc.
press-global@cerevo.com
https://www.instagram.com/cerevo_global/
https://www.facebook.com/CerevoGlobal
https://twitter.com/CerevoGlobal
Press Release/Alert:
https://info-en-blog.cerevo.com/