[Update] Taking pre-order of FlexTally from 12am, 1st December 2017 (EST). The details are in the latest news release
Cerevo announces the global availability of "FlexTally", a wireless tally lamp system
https://info-en-blog.cerevo.com/2017/11/30/1877/(dated on 30th November, 2017)
Cerevo announces development of "FlexTally".
A wireless tally lamp system, competitively priced and easy to set up
Expanding the market for the diverse professional crews
23rd April 2017 –

Cerevo Inc., an Internet connected consumer electronics manufacturer headquartered in Tokyo, Japan, announces a tally system, "FlexTally" which supports both wireless and wired connections. FlexTally is scheduled to be available for purchase after Summer 2017 at the Official Cerevo Store as well as Amazon.com for approximately US$500.00 (the standard package contains one station unit and four lamp units).
FlexTally will be exhibited at NAB Show 2017 in Las Vegas, in the United States from 24th-27th April 2017. (Cerevo Booth information at the bottom  Central Hall,  C1046)

FlexTally https://flextally.cerevo.com
The Tally Lamp System can be used for recording or live streaming with multiple cameras. Without a professional broadcasting studio camera setup, on camera performers or presenters have no way to know which of the multiple cameras is active. Using a tally lamp system, an indicator lamp called a "tally lamp" is set near the lens of each camera and the tally lamp with a pilot lamp to show which camera is active.
Currently, live video and recording using multiple cameras is often used in professional fields such as the broadcast industry, so standard tally lamp systems are expensive and in general are sold as peripheral equipment compatible with specific video switchers.
Due to the performance improvement and lower price of HD video cameras, as well as the spread of live distribution services, environments where professional quality video recording and live streaming using multiple cameras are being used is expanding. So by using FlexTally, not only professional users but also semi-professional and amatuer users have greater opportunities to develop high quality programs and broadcasts.
In 2009 Cerevo launched a device that enabled full-scale live streaming at an affordable price, CEREVO CAM supported the world's first live streaming service Ustream and brought live streaming to a new generation of broadcasters. Since then Cerevo has been constantly developing new live streaming devices such as the LiveShell series, that can deliver HD broadcasting without using a PC and LiveWedge, a video switcher, mixer and recorder with live streaming functions.
FlexTally is a tally lamp system designed for easy operability and available at a price range that means even small studios or streaming sites can look to add it to their multi-camera setups. FlexTally can be used via either wired or wireless connections for added convenience and its built-in battery allows for portability and use in remote shooting locations.
Main features
FlexTally consists of a station unit that connects to LiveWedge and four lamp units that are to be attached to each camera. Each lamp illuminates automatically according to the LiveWedge switching operation. Built-in batteries in the lamps eliminate the need for multiple power cables.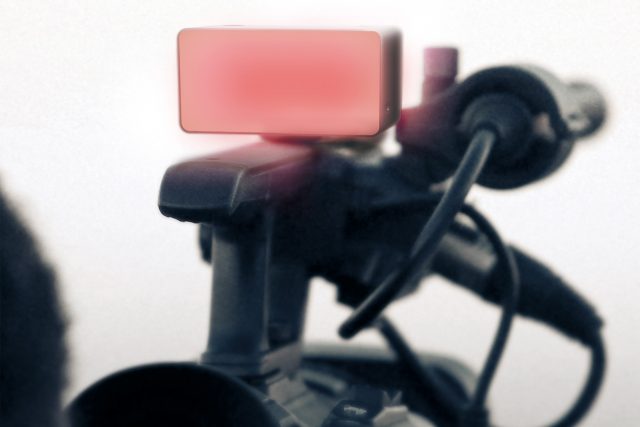 It uses the 433 MHz wireless which is resistant to obstacles and interference from other wireless signals, so a communication distance of 100m or greater can be achieved. The wired connection uses a standard RS-485 serial connection, so it is possible use cables several hundred meters in length without issues. In addition, it is also possible to daisy chain connections through terminal blocks ), enabling even longer connections as needed.
If you use FlexTally in combination with Cerevo's live streaming switcher LiveWedge, no advanced setup is required and users can easily complete installation without special knowledge of video equipment or network connections. In addition, FlexTally is compatible with other brands' switchers, as well as Cerevo's own LiveWedge switcher.*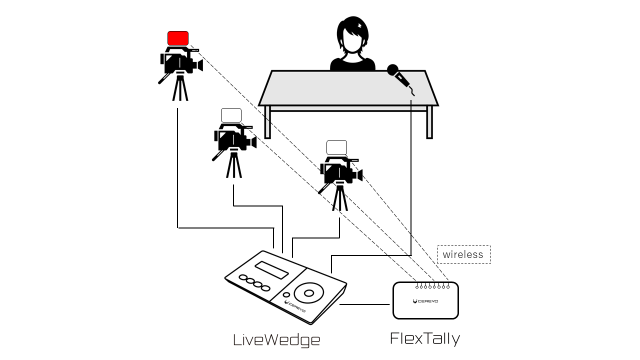 FlexTally uses high brightness LEDs and the 6 hour battery life of each lamp unit means it can be used outdoors in remote shooting locations where power may not be readily available. Also extra lamps can be added, making it possible to connect up to 32 lamp units to one station. Cerevo plans to make available lamps for purchase separately.

* Blackmagic Design's switchers will be supported.
Specifications
Wireless connection distance
Approx. 100m (line-of-sight)
Wireless connectivity
433MHz (US/EU), 315MHz (Japan)
Wired Connectivity
RS-485 serial connection
Battery operating time
Lamp unit – 6 hours
Maximum number of cameras supported
32
Size
Station Unit
W125 x D70 x H30 mm
Lamp Unit
W100 x D65 x H50 mm
Weight
TBD
NAB Show 2017
24th to 27th April 2017 @Las Vegas Convention Center
Cerevo Booth: Central Hall,  C1046 (floor map)
Cerevo product showcase@NAB
Exhibits details: http://www.nabshow.com/show-floor/exhibits
Press kit
A selection of high resolution images for FlexTally can be found at the link below.
https://s3-ap-northeast-1.amazonaws.com/cerevo-share/170424_image_flextally.zip
※日本語プレスリリース(こちら)
News https://info-en-blog.cerevo.com/
About Cerevo
Cerevo Inc. (Consumer Electronic REVOlution) was founded in 2008 and is located in Tokyo, Japan with a branch office in Redmond, WA, USA. Cerevo is a small batch company focusing on making unique networked devices and connected solutions for both consumer and professional users based on its "Global Niche" concept. Cerevo's products have been recognized globally and are sold in more than 60 countries.
Over 25 products have been released including, CEREVO CAM – a digital camera with internet connectivity, the LiveShell series – devices to enable live streaming on Ustream and YouTube Live using only a video camera, LiveWedge – a 4 input HDMI switcher with live streaming capabilities, Tipron – a smart robot projector for homes or businesses, and the XON series of smart sports products. For more information, please visit – http://cerevo.com

Press Contact
Cerevo Inc.
press-global@cerevo.com
https://www.facebook.com/CerevoGlobal
https://twitter.com/CerevoGlobal
https://www.instagram.com/cerevo_global/
Cerevo Online Store
http://gstore.cerevo.com/