23rd March 2017 –
*Description added to avoid misunderstanding – Please note that current language support for 1/8 Tachikoma is ONLY Japanese for output via the smartphone app or internal speaker. Tachikoma supports both Japanese and English input via the smartphone app or internal microphone.  [As of 14th August 2017]
攻殻機動隊 S.A.C. TACHIKOMA ⅛ scale,
Movinging, Talking and Synchronizing, a smart toy replica from "Ghost in the Shell" now available for pre-order
Limited quantity of SPECIAL EDITION also available with crafted aluminum parts
Cerevo Inc., an Internet connected consumer electronics manufacturer headquartered in Tokyo Japan, announces that TACHIKOMA (Product name:攻殻機動隊 S.A.C. TACHIKOMA ⅛ scale Moving, Talking and Synchronizing) can be pre-ordered today and will be available for purchase in June 2017. Cerevo's TACHIKOMA, a smart toy replica of the AI robotic weapons platform that appears in the animation "Ghost in the Shell" is fully mobile and can move around by it's own robotic feet and wheels. Users can converse with it using the companion cloud-linked smartphone app.
TACHIKOMA is available for pre-order today at the Official Cerevo Store as well as Amazon.com for US$1,799.00, (SPECIAL EDITION US$ 1,999.00) and the product is currently scheduled to ship in June 2017.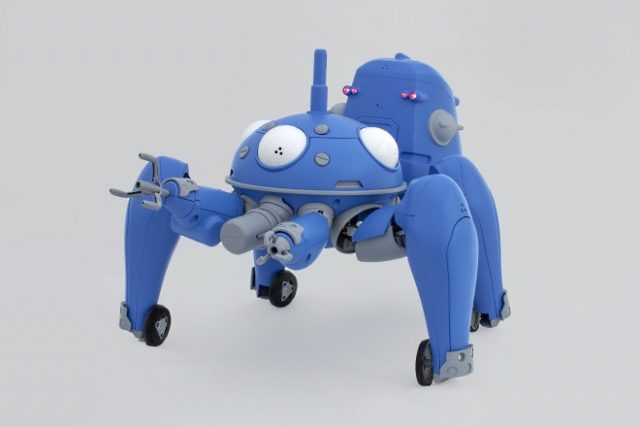 TACHIKOMA 1/8 Scale
https://tachikoma.cerevo.com/en/
Cerevo's ongoing project "S2R (From screen to the real world)" creates unique, real world connected versions of devices that appear in works of animation, games, movies, etc. TACHIKOMA is a product developed by Cerevo as its second step S2R. It is the first Ghost in the Shell product*1, with the perspective of the world of 攻殻機動隊 (Ghost in the Shell) S.A.C. that realizes electric mobility of each joint, pod, manipulator, and wheel. It features a speech recognition function that allows users to talk to TACHIKOMA in natural language, reproduces the "synchronization" ability between all other TACHIKOMA(s) and has a running function controlled via smartphone.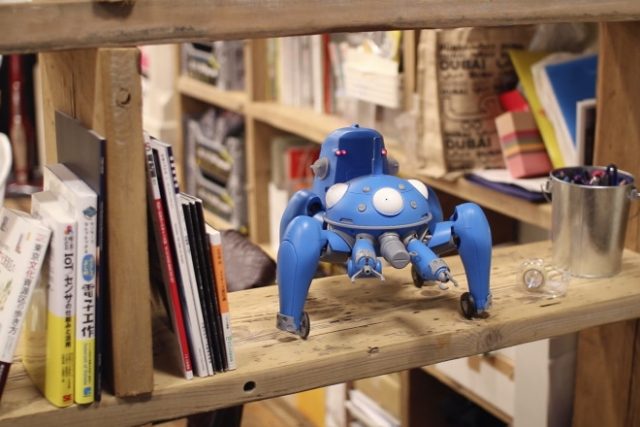 ■Every part such as each leg joint, both arms and pod can move autonomously
In total 21 motors are mounted in TACHIKOMA and they move autonomously according to conversations it has with the user. Not only each leg but also parts such as both arms, pod, image sensor, etc. will move. In addition, there is the option of operating TACHIKOMA via the companion smartphone application. Like the original, it can freely move by turning the running wheels on the bottom of each leg. Furthermore, by providing multiple action commands, it is possible to reproduce a variety of postures and a variety of emotional expressions that appear in the original anime by moving each leg joint or pod.
■Sakiko Tamagawa's recorded voice can make the same conversation as the original
In order to make any answer theoretically possible like the original animation, 600 different responses from Sakiko Tamagawa, the voice-over actress of TACHIKOMAs in the original animation were recorded and combined with a voice recognition engine and voice synthesis engine. You can talk in the real world with TACHIKOMA who will then respond with the same voice as in anime, this is the function all fans have dreamed of, TACHIKOMA recognizes the spoken words and creates a suitable reply based on the question content. In addition to matters concerning the characters and keywords from the original anime, it is also possible to answer with everyday conversation such as "Good morning" or "I'm home".
■Connectivity to check weather forecast and schedule
TACHIKOMA has an Internet connectivity feature that tells users the weather forecast and their registered  Google Calendar schedule by asking TACHIKOMA. When asking TACHIKOMA "What is the schedule for today?", it will answer with a synthesized voice based on Sakiko Tamagawa's original, for example, "You will be meeting with Saito at 9:30!".  When asking for words that you do not know such as "What is ◯◯?", TACHIKOMA searches the internet and then answers* 2.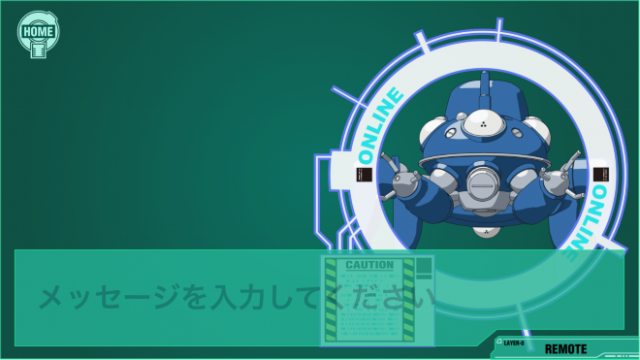 ■Synchronization is reproduced by object and speech recognition
One of the most important features of TACHIKOMA, is reproducing "parallelization" which is regarded as a very important function in the original anime. As in the original, each 1/8 TACHIKOMA is connected to the cloud (the Internet), when you show an object to the camera mounted in the image sensor part, the object recognition engine in the cloud recognizes the object.
For example, show an apple to TACHIKOMA and ask "What is this?", it will answer "I know, it's an apple isn't it?" In addition, when user "A" tells TACHIKOMA, "an apple is sweet", TACHIKOMA understands this by using speech recognition technology and transmits the learned information "an apple is sweet" to the cloud, all other TACHIKOMAs then "synchronize" the information as new TACHIKOMA memories.
At a later date, if user "B" shows an object that can be recognized as apple to TACHIKOMA, it says, "I know, it's an apple right? An apple is sweet." This means that all users receive the information that TACHIKOMA has learned via synchronization.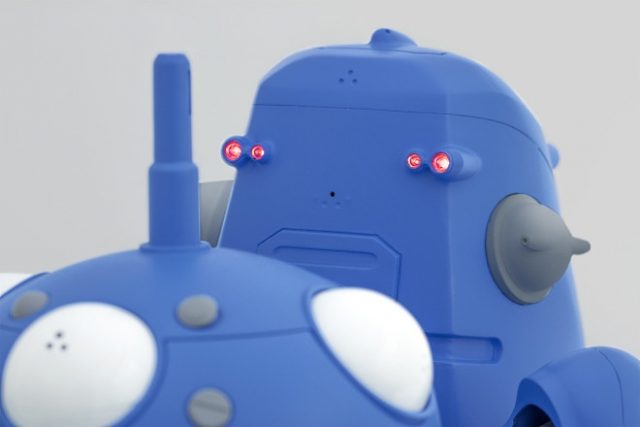 ■Metallic body "SPECIAL EDITION"
In commemoration of the release of 1/8 TACHIKOMA, Cerevo will release in limited quantities a SPECIAL EDITION which will use crafted aluminum parts for the bumper part and barrel cover part of the main body. The price for the SPECIAL EDITION is US$1999.00, and will be available to pre-order from 23rd March 2017 on the same day as the regular edition.

*1   Globally available, commonly purchasable products.
* 2  Answers for this function will be delivered on the companion smartphone application, not by voice.
Specifications
Size
352×391×249mm (W×D×H)
Weight
1.5kg
Wireless Connection
Wi-Fi (IEEE 802.11b/g/n)
Operating Time
Approx. 6 hours *1
Application OS support
iOS 9.3 or later, Android 4.4 or later
Recommended Age
15 years old or above
Language Support
Input: Japanese/English *2
Output: Japanese *3
*1   Varies depending on the main body behavior.
*2   Via smartphone app (text) or microphone (voice)
*3   Via smartphone app (text) or speaker (voice)
■1/8 TACHIKOMA showcased at events
At "SENSORS IGNITION 2017" to be held at Toranomon Hills on 23rd March, a demonstration of TACHIKOMA's will be exhibited. Also, at "AnimeJapan 2017" to be held at Tokyo Big Sight, TACHIKOMA will be exhibited from 25th March and pre-orders will be taken at the venue. Finally, a demonstration will take place at "Movie" VS "Real" ~ "Fukuoka First Year of IoT × cross fm" to be held in Fukuoka on 31st March.
Event information
SENSORS IGNITION 2017
[23rd March] [Toranomon Hills]
URL: http://www.sensors.jp/ignition/
AnimeJapan 2017
[23rd March – 24th March: Business Area]
[24th March – 25th March: Main Area]
[Tokyo Big Sight]
URL: http://www.anime-japan.jp
"Movie" VS "Real" – Fukuoka first year of IoT x cross fm
[31st March][Denki bldg. Mirai Hall, Fukuoka]
URL: http://crossfm.co.jp/contpgms/w_main.php?oya_id=478

© Shirow Masamune-Production I.G./KODANSHA, 攻殻機動隊製作委員会

About Cerevo
Cerevo Inc. (Consumer Electronic REVOlution) was founded in 2008 and is located in Tokyo, Japan with a branch office in Redmond, WA, USA. Cerevo is a small batch company focusing on making unique networked devices and connected solutions for both consumer and professional users based on its "Global Niche" concept. Cerevo's products have been recognized globally and are sold in more than 55 countries.
Over 25 products have been released including, CEREVO CAM – a digital camera with internet connectivity, the LiveShell series – devices to enable live streaming on Ustream and YouTube Live using only a video camera, LiveWedge – a 4 input HDMI switcher with live streaming capabilities, Tipron – a smart robot projector for homes or businesses, and the XON series of smart sports products. For more information, please visit – http://cerevo.com
Press Contact
Cerevo Inc.
press-global@cerevo.com
https://www.facebook.com/CerevoGlobal
https://twitter.com/CerevoGlobal
https://www.instagram.com/cerevo_global/
A selection of high resolution images for TACHIKOMA 1/8 can be found at the link below.
https://s3-ap-northeast-1.amazonaws.com/cerevo-share/170323_image_tachikoma.zip
Support Contact
support-global@cerevo.com
Cerevo Online Store
http://gstore.cerevo.com/
※日本語プレスリリース(こちら)