Supported by LiveShell Studio,
a web application that can control all aspects of live streaming
Cerevo, an Internet connected consumer electronics manufacturer headquartered in Tokyo, will release LiveShell W, the latest and most advanced model in its line of award-winning LiveShell series streaming devices, it will be available on 1th Sep., 2022 at the Official Cerevo Store. LiveShell W is priced at $899.00 and is scheduled to be shipped from the globally.
Celebrating 11 years since the original Cerevo LiveShell was released, LiveShell W is the top-of-the-line model in the LiveShell series. Keeping the compact chassis and highly used functions from the globally popular LiveShell X, two-input video switching and video effect functions have also been added. In addition, LiveShell W is equipped for monitor display output and audio input. Video switching can be operated with the control dial and video select button on the front of the device. A built-in microphone amplifier provides easier audio control.
Box contents
– LiveShell W unit
– AC adapter
– USB cable for power supply
– Wi-fi adapter
– LiveShell W Quick Setup Guide
– Carrying case for LiveShell W
P/N
CDP-LS05A
Price
USD899.00
EUR 999.00 (VAT included)
LiveShell Studio, a built-in web app for complete live streaming control
In addition to being able to operate from the main unit, LiveShell W is equipped with LiveShell Studio, an exclusive web app to control streaming. LiveShell Studio can be operated from PC browsers, tablets and smartphones that are connected to the same network as LiveShell W. Anyone can easily set up video effects such as mix, PinP, captions, chroma key and audio effects, as well as set live streaming destinations.
With LiveShell Studio, you can easily change video and audio settings via the simple UI, controlling things such as pull-downs and sliders, video switching, audio mixing, destination and recording. The necessary operations for live streaming can be completed on a single screen. A memory function* will instantly retrieve the layout you want. This enables a smooth workflow even in a hectic environment.
* Available in future firmware update in fall 2022 or later.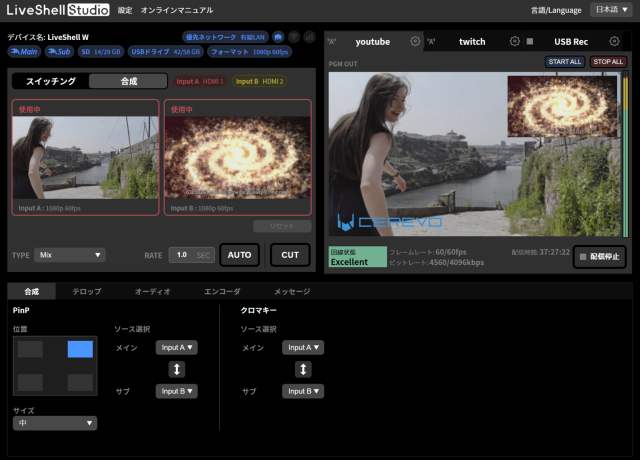 Stream from anywhere with a mobile battery power supply
LiveShell W has two USB Type-C power inputs supporting power supply from both AC adapters and mobile batteries for power redundancy. Using a mobile battery together with an AC adapter allows for an emergency backup should the need arise.
LiveShell W continues to pursue the stability that is the hallmark of the LiveShell series. Enabling live streaming over long periods of time using only the main unit, camera and a network connection, without the need for a PC. 5GHz Wi-Fi band support allows for stable live streaming even in locations where wireless LAN networks are congested.
Use the dedicated battery case for LiveShell W, currently available Pre-Order, to improve stability and security when an external battery is needed.

Up to 1080/60p, 3-channel simultaneous live streaming is supported
LiveShell W supports simultaneous live streaming to up to 3 channels at 1080/60p Full HD quality, allowing multiple live streams to platforms such as YouTube Live and Facebook Live. The streaming resolution is linked to the input system video format, enabling 3-channel live streaming with the same maximum 1080/60p resolution. With LiveShell W it is also possible to live stream to the same platform via different accounts for backup purposes.
LiveShell W supports major international live streaming services, it can also broadcast to your own live streaming platform using a dedicated server and the LiveShell Studio web application. LiveShell W can also be used as a server in RTSP mode to stream video in a local environment without the need to build a dedicated distribution server.
microSD and USB memory for recording
The microSD card slot on the front of the unit and the two USB adapter ports on the front and rear maximize LiveShell W's recording abilities. Live streaming and recording can be done simultaneously at resolutions up to 1080/60p using the system video format setting in LiveShell Studio.
*microSD recording and USB flash drive recording are exclusive functions. Only one of them can be used by itself or in combination with live streaming.
*The resolution for video input, live streaming and recording will be the same resolution as set in the system video format.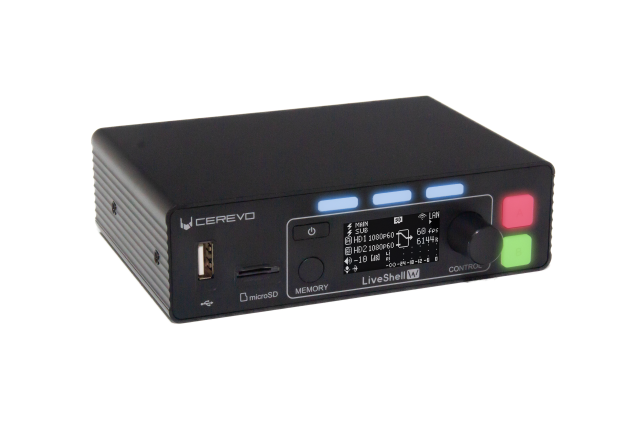 LiveShell W Specifications
Size
W145×D100×H42mm
Weight
Approx. 500g
* Excluding accessory items
USB ports
2
USB connectable devices
– USB memory for recording
– Wi-Fi adapter
Power
# of inputs
2 Port
* Power supply redundancy is supported.
Connector
USB Type-C
Voltage
5V
Max. current
3A
Compatible power supply equipment
AC Adaptor or mobile battery
Live streaming / Recording
Protocol Support
RTMP/RTMPS Client
RTSP Server
MPEG2-TS over UDP
Simultaneous Streaming
3ch
* Each live streaming destination must use the same encoder stream.
* Max. 2 simultaneous streams if the recording function is enabled.
Recording Media
microSD card (SDHC standard up to 32GB)
USB memory (USB2.0 High-Speed standard, FAT32 format)
* SD slot does not support SDXC cards.
* Recording with a microSD card and USB memory are exclusive functions and cannot be used simultaneously.
Recording stream
Encoder stream same as live streaming output
Encoding
Video
Video compression
H.264
Max. resolution
1920 x 1080
Max. frame rate
60FPS
Bitrate output range
128 ~ 20,480 kbit/s
Audio
Audio encoding
AAC-LC
# of channels
2
Sampling rate
48kHz
Audio bit depth
16bit
Bitrate output range
48 ~ 256kbit/s
Input interface
Video
# of inputs
2
Video input
HDMI
* HDCP is not supported.
Input format
1080p/60(59.94), 1080p/50, 1080p/30(29.97), 1080p/25, 1080p/24(23.976), 1080i/60(59.94), 1080i/50, 720p/60(59.94), 720p/50, 720p/30(29.97), 720p/25, 720p/24(23.976), 576p/50, 480p/59.94, VGA
* Each HDMI input must use the same input format.
Deinterlacer
Field combination
* Interlaced input will be automatically converted to progressive output.
* Interlaced output is not supported.
Digital audio
# of inputs
HDMI x2, USB x1
Audio input
HDMI Audio (shared with video input)
USB Audio Class
* USB audio interface (sold separately) is required for USB input.
* USB input will be enabled in a future firmware update (fall 2022 or later).
Analog audio
# of inputs
2
Input connector
LINE In, MIC In
* The audio inputs can be mixed with HDMI audio
Output interface
Video
# of outputs
1
* Used to check the live streaming output.
Video output
HDMI
Output formats
1080p/60(59.94), 1080p/50, 1080p/30(29.97), 1080p/25, 1080p/24(23.976), 720p/60(59.94), 720p/50, 720p/30(29.97), 720p/25, 720p/24(23.976), 576p/50, 480p/59.94, VGA
* The output format will be the same as the input.
* Interlaced input will be automatically converted to progressive output.
Digital audio
# of outputs
1
Digital audio output
HDMI Audio (same as video output)
Video operation
Switching
# of video inputs
2
Effect
CUT、MIX、WIPE
Video mixing
Effect
PinP, Chroma key, Split screen left/right
Lower thirds
Caption, text placement, PNG image
* Supported only in full screen.
* Only full screen images are supported.
* Free text and image placement will be supported in a future update.
UI
Unit operation
Display
128 x 64 dots OLED display
Power operation
Power button
Menu operation
Control dial, Memory button
Video/streaming operation
Streaming control button, A/B switch button
External operation
Buit-in HTTP Server
Control with application on PC or tablet connected wirelessly or via Ethernet
Installed Application
LiveShell Studio
Network
Ethernet
Connection interface
10BASE-T/100BASE-TX/1000BASE-T
# of ports
1
Wireless
Connection interface
Wireless LAN(802.11a/b/g/n/ac)/LTE
* Wireless LAN Adapter required.
Wireless LAN
Infrastructure mode or AP mode
Network protocal
IPv4 / IPv6
Address settings
DHCP or fixed IP (IPv4), SLAAC (IPv6)
---
About Cerevo
Cerevo Inc. was founded in 2008 and is located in Tokyo, Japan. Cerevo is a small batch company focusing on making unique networked devices and connected solutions for both consumer and professional users based on its "Global Niche" concept. Cerevo's products have been recognized globally and are sold in more than 85 countries and regions.
Over 25 products have been released including, the LiveShell series – devices to enable live streaming on YouTube Live and other streaming services using only a video camera, LiveWedge – a 4 input HDMI switcher with live streaming capabilities, REC-1/LOG-1Tipron – a full HD sports camera with sensor that visualizes your sports activity from the XON series of smart sports products. For more information, please visit – https://cerevo.com
For inquiries regarding new hardware development and sales, please contact us via the link below.
https://cerevo.com/en/contact/
Press Contact:
press-global@cerevo.com
https://www.instagram.com/cerevo_global/
https://www.facebook.com/CerevoUSA
https://twitter.com/CerevoGlobal