New firmware, v1.1.0, has been released for LiveShell W, Cerevo's live-streaming device launched in August 2022.
Please see the firmware release note for details. 
https://liveshell-w-manual.cerevo.com/release_v1.1.0.html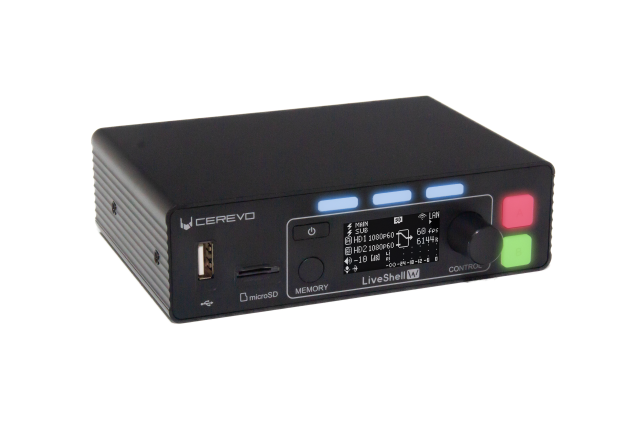 LiveShell W is the top-of-the-line model of the LiveShell series, celebrating 11 years since its first release this year. In addition to the popular functions of the "LiveShell X," which has been used around the world, two-input video switching and video effect functions are condensed into a compact body. It is equipped with abundant functions, such as monitor output, audio input. Video switching can be operated with the control dial and video select button on the unit body. A built-in microphone amplifier supports flexible audio control.
Please refer to the manual for how to update the firmware.
https://liveshell-w-manual.cerevo.com/manual.html
LiveShell W is available to purchase here.
Cerevo Official Store, LiveShell W
https://gstore.cerevo.com/products/live-streaming-device/liveshell-w/
We appreciate your continued support for Cerevo products.
---
Cerevo Inc.
Keisuke Onuma, President
Meitetsu Fudosan Takebashi Building 2nd Floor
3-15 Kanda Nishiki-cho, Chiyoda-ku, Tokyo
About Cerevo
Cerevo Inc. was founded in 2008 and is located in Tokyo, Japan. Cerevo is a small batch company focusing on making unique networked devices and connected solutions for both consumer and professional users based on its "Global Niche" concept. Cerevo's products have been recognized globally and are sold in more than 85 countries and regions.
Over 25 products have been released including, the LiveShell series – devices to enable live streaming on YouTube Live and other streaming services using only a video camera, LiveWedge – a 4 input HDMI switcher with live streaming capabilities, REC-1/LOG-1Tipron – a full HD sports camera with sensor that visualizes your sports activity from the XON series of smart sports products. For more information, please visit – https://cerevo.com
For inquiries regarding new hardware development and sales, please contact us via the link below.
https://cerevo.com/en/contact/
Press Contact:
https://www.facebook.com/CerevoUSA