FOR IMMEDIATE RELEASE
28th October, 2015 | Tokyo
Pre Sales Campaign on Indiegogo and Compatible with "myThings" Service by Yahoo! Japan
Cerevo, an Internet connected consumer electronics creator and developer, is pleased to announce its new product, Hackey, a Wi-Fi connected, palm size key switch. Hackey will go on sale from 28th October. It will be available for purchase from the Official Cerevo Store for $89 (excl. tax) and will also be available on Indiegogo for overseas sales on the same day.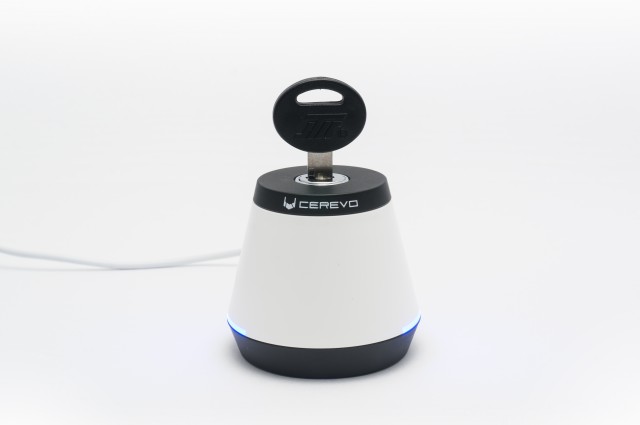 Hackey
http://hackey.cerevo.com/en/
Hackey is the third product from the "Cerevo Maker series" line, a Cerevo brand targeting developers and makers. In developing a palm size key switch with built in Wi-Fi, Cerevo has created a device that by just turning the key allows you to connect to a web service or application, enabling development of new services and products from both hardware and software engineers.
Hackey's settings are controlled by a web-based "Dashboard" service, allowing Hackey to be connected to HTTP request compatible services. Services like IFTTT and Zapier are available to customize activities such as sending a message to Twitter, controlling smart light on-off functions and LED notification of weather forecasts. Hackey's LED lighting can be customized to activate when receiving requests from various services.
"myThings" by Yahoo!Japan is supported by Hackey and the Hackey channel will be enabled to connect with myThings before the end of the year. myThings is an application which is able to create new usage models by connecting IoT products and web services. This collaboration gives even non-professional developers a chance to create something new.  For example, you can configure Hackey and myThings to send messages about activities or purchase a certain product from an e-commerce site by just turning the key

"myThings" by Yahoo! Japan
http://mythings.yahoo.co.jp/
Hackey is provided with an open API, so it is possible to develop any number of new services or hardware that is supported and compatible with Hackey. Just turning on Hackey could enable services like ordering a certain product on an e-commerce site or calling a taxi.
The key switch can be replaced by any other standard φ16 switches on the market. So you can replace the key switch with, for example, a push button switch to further customize Hackey. (Any customization of Hackey that involves dismantling will void the manufacturer's warranty.)
Specifications
| | |
| --- | --- |
| Wireless LAN | IEEE 802.11b/g/n (2.4GHz) |
| LED color | 5 colors (red, green, blue, yellow and purple) |
| Power | Micro USB power supply |
| Size | Diameter: 56mm Height: 51mm |
| Weight | 60g |
| Packaged | Micro USB cable, key x2, wall mount adapter |
Indiegogo Campaign
Indiegogo, the crowd funding site, has been chosen as the sales platform for overseas promotion, the campaign on Indiegogo will begin at the same time as the release of Hackey. On Indiegogo, Hackey will be available worldwide after reaching the goal in the campaign period and a limited number of first adopters will be able to purchase Hackey at a special price. The shipping to Japan, US and UK is free.
Indiegogo Campaign URL
Indiegogo Price
$59: Hackey x1 (256 available)
$79: Hackey x1 (256 available)
$169: Hackey x3 (64 available)
$649: Hackey x12 (8 available)
Press Images
Please see the below URL for a selection of high resolution press images.
https://s3-ap-northeast-1.amazonaws.com/cerevo-share/hackey_1028.zip
About Cerevo
Cerevo Inc. (Consumer Electronic REVOlution) has its HQ located in Akihabara, Tokyo, Japan with a branch office in Redmond, WA, USA. Cerevo focuses on creating networked devices for consumer and professional users. Cerevo's products have been recognized globally for their unique connected solutions.
Cerevo has developed and released CEREVO CAM – a digital camera with internet connectivity, the LiveShell series – devices to enable live streaming on Ustream and YouTube using only a digital camera, SmartTrigger – a bluetooth remote to enable the release of your digital camera shutter from your smartphone, LiveWedge – a 4 input HDMI switcher with live streaming capabilities and the XON series of smart sports products. These products are sold in more than 37 countries. For more information, please visit – http://cerevo.com
Press Contact
Cerevo Inc
info-usa@cerevo.com
https://www.facebook.com/CerevoUSA
https://twitter.com/CerevoUSA