7th January, 2020
Cerevo at CES 2020 – Exhibiting Examples of Products Developed Utilizing the IoT Platform Afero
Cerevo Inc., an Internet connected consumer electronics manufacturer based in Tokyo, Japan, has developed products using the IoT platform provided by Afero, with whom Cerevo announced the first Advanced Tier Integration Partnership focusing on start-up support and contract/joint development in December 2019. Some of the examples of these products will be exhibited at CES 2020.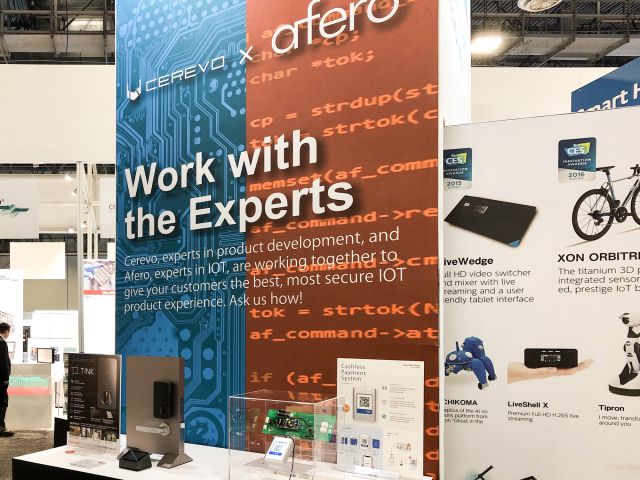 Start-up Support Business
"TiNK" Lock Device for tsumug, inc.
Cerevo has been playing a major role in developing both hardware and the service for tsumug's TiNK, a lock device, since April 2018. Afero technology was able to bring stable service to TiNK, ranging from normal circumstances to emergency situations, enabling reliable unlocking. tsumug's TiNK lock is the very first product Cerevo and Afero began working on together as a result of tsumug utilizing Afero for the device. The latest model of TiNK will be exhibited for reference at CES 2020.
Contract/Joint Development
Cashless Payment Terminal Device for Japan Digital Design, Inc.
Cerevo has developed the prototype for a cashless payment terminal device for Japan Digital Design. By communicating with the device using a dedicated App that has been downloaded onto a smartphone, a QR code that can only be used for payment settlements on that smartphone is generated. This unique and safe payment system through secure connections came to reality by using Afero technology. The prototype device will be exhibited at CES 2020.
Cashless Fully-Automated Washer and Dryer for X-tech Management, Ltd.
With X-tech Management, Ltd., Cerevo has developed a prototype from the idea of a student at Kyoto University of Art and Design for a "cashless washer and dryer service for vacation rentals." An existing coin-operated fully-automated washer and dryer was customized after receiving permission from the manufacturer and using Afero for communication. The control board, which has communication features that support electronic payment systems, will be exhibited for reference at CES 2020.
With these product development achievements Cerevo is looking forward to working closer together with Afero as the first Advanced Tier Integration Partner.
[Cerevo @ CES 2020 Booth Information]
Event: CES 2020
Event Period: January 7th to 9th, 2020
Booth: Sands, Halls A-D – 41152

Please refer to the following for more information on the booth's location.Cerevo USA LLC
https://ces20.mapyourshow.com/8_0/exhibitor/exhibitor-details.cfm?ExhID=T0010615
---
About Cerevo
Cerevo Inc. was founded in 2008 and is located in Tokyo, Japan with a branch office in Redmond, WA, USA. Cerevo is a small batch company focusing on making unique networked devices and connected solutions for both consumer and professional users based on its "Global Niche" concept. Cerevo's products have been recognized globally and are sold in more than 85 countries and regions.
Over 25 products have been released including, the LiveShell series – devices to enable live streaming on Ustream and YouTube Live using only a video camera, LiveWedge – a 4 input HDMI switcher with live streaming capabilities, REC-1/LOG-1Tipron – a full HD sports camera with sensor that visualizes your sports activity from the XON series of smart sports products. For more information, please visit – http://cerevo.com
Press Contact:
Cerevo Inc.
press-global@cerevo.com
https://www.instagram.com/cerevo_global/
https://www.facebook.com/CerevoGlobal
https://twitter.com/CerevoGlobal
Press Release/Alert:
https://info-en-blog.cerevo.com/