27th December, 2019
Cerevo at CES 2020 – Exhibiting New Products Under Development and Jointly Developed Products
– At booth introduction sessions will be available by appointment to discuss utilizing the next-generation IoT platform "Afero" –
Cerevo Inc., an Internet connected consumer electronics manufacturer based in Tokyo, Japan, will be participating in the exhibition CES 2020 which will be held in Las Vegas from January 7th, 2020.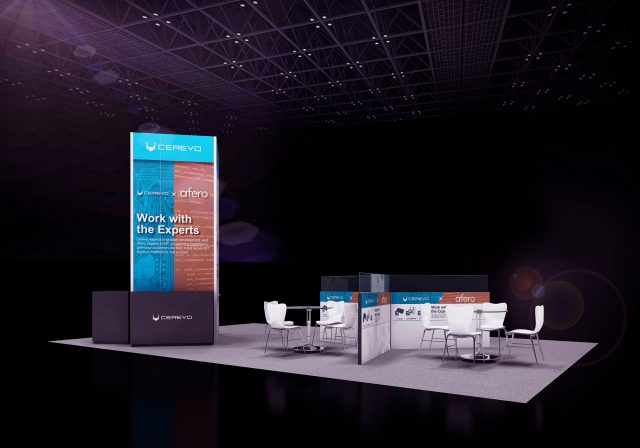 This is the 8th consecutive CES for Cerevo and it is the first time Cerevo's booth will  be in the Smart Home area. Cerevo will be displaying new products currently under development. In addition, there will be introduction sessions jointly held with Afero, whom Cerevo recently announced their first Advanced Tier Integration Partnership in December 2019, to help US and Asian customers launch amazing IoT projects quicker with minimal custom development required. Some of the products jointly developed using Afero's technology will also be displayed.
【Outline of introduction sessions】
Cerevo will be holding introduction sessions together with Afero on start-up support and joint development utilizing Afero's next-generation IoT platform which brings class-leading connectivity and security.

The engineers of Cerevo and Afero look forward to discussing future opportunities on product development. Please fill out the request form below to reserve your slot in advance.

https://forms.gle/re7pZ415DzsCwgsE6
[Cerevo @ CES 2020 Booth Information]
Event: CES 2020
Event Period: January 7th to 9th, 2020
Booth: Sands, Halls A-D – 41152
Please refer to the following for more information on the booth's location.Cerevo USA LLC
https://ces20.mapyourshow.com/8_0/exhibitor/exhibitor-details.cfm?ExhID=T0010615
---
About Cerevo
Cerevo Inc. was founded in 2008 and is located in Tokyo, Japan with a branch office in Redmond, WA, USA. Cerevo is a small batch company focusing on making unique networked devices and connected solutions for both consumer and professional users based on its "Global Niche" concept. Cerevo's products have been recognized globally and are sold in more than 85 countries and regions.
Over 25 products have been released including, the LiveShell series – devices to enable live streaming on Ustream and YouTube Live using only a video camera, LiveWedge – a 4 input HDMI switcher with live streaming capabilities, REC-1/LOG-1Tipron – a full HD sports camera with sensor that visualizes your sports activity from the XON series of smart sports products. For more information, please visit – http://cerevo.com
日本語のお知らせはこちら
Press Contact:
Cerevo Inc.
press-global@cerevo.com
https://www.instagram.com/cerevo_global/
https://www.facebook.com/CerevoGlobal
https://twitter.com/CerevoGlobal
Press Release/Alert:
https://info-en-blog.cerevo.com/