FOR IMMEDIATE RELEASE
18th April 2016, Las Vegas
Cerevo Unveils a New Revolutionary Video Encoder for Live Streaming, LiveShell X
Supporting H.265/H.264 Live Encoding at up to 1080/60p, Realtime Recording and Multicasting up to 3 Simultaneous Streams
Cerevo, the IoT startup based in Tokyo, has announced "LiveShell X" the latest and most advanced model in its line of award-winning LiveShell series devices that enable you to live stream without the need for a PC. Priced at $699, LiveShell X is scheduled to be shipped in Summer 2016, and will be exhibited at NAB Show 2016 in Las Vegas, USA.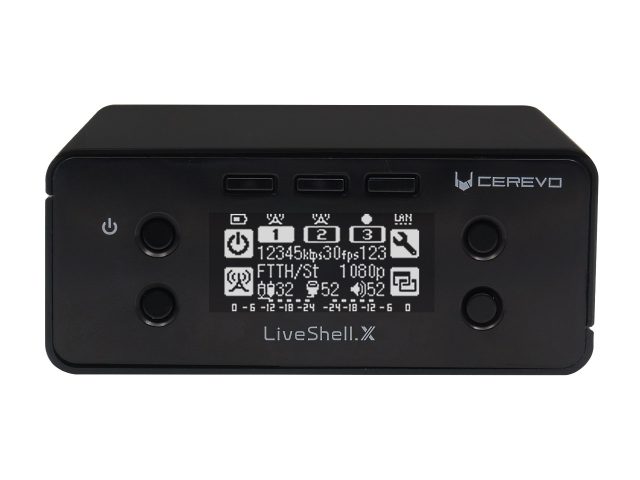 PRODUCT INFORMATION
Product Name: LiveShell X
Product Code: CDP-LS04A
Stable, professional PC-less live streaming
Full HD video broadcasting without the need to rely on a PC for live streaming.
Up to 3 simultaneous streams
The multi-streaming function enables you to stream multiple services simultaneously while sending video to a backup server. You can also broadcast multiple streams to one streaming service with different bit rates.
H.265/H.264 live encoding up to 1080/60p
LiveShell X features leading edge H.265/AAC encoding, supporting video at up to 1080/60fps and a bit rate of 20Mbps.
Realtime recording during live streaming
LiveShell can record to a microSD card directly, to make a backup copy for your H.265/H.264 encoding live broadcasts.
Preview on your tablet
Use VLC player to view a realtime output preview (360p resolution).
Lower thirds support
Add subtitles, logos and graphics to your live streaming.
Specifications
Product Name (P/N)
LiveShell X CDP-LS04A
Internet Connection
Ethernet (10BASE-T/100BASE-TX)

Wireless (IEEE 802.11ac/b/g/n)

Video Input
HDMI (max 1080/60p)
Audio Input
HDMI / Stereo
Video Compression
H.265 / H.264
Audio Compression
AAC-LC
Video bit rate
20Mbps (max.) TBC
Audio bit rate
256kbps (max.)
Resolution (Live)
1080/60p (max.) (one stream)
Simultaneous Streaming
Up to 3 streams
Resolution (Recoding)
1080/60p (max.) when recording
Recoding Media
microSD (SDXC)
Power Supply
AC adapter (included)
Continuous Operating Time
Approx. 3 hours
Size
102 x 42 x 100mm
102 x 42 x 100mm / 4.02 x 1.5 x 3.94 (inches)
Weight
Approx. 480g / 1.06lb (including battery)
MultiCasting
LiveShell X can livestream or record at up to 1080/60p for one stream. With lower frame rates or resolutions, multi-streaming or recording can be done as below.
Examples
Streaming / Recording
Max. Resolution
1 Stream
1080/60p
1 Recording
1080/60p
1 Stream and 1 Recording
Streaming at 1080/30p and Recording at 1080/30p
2 Streams and 1 Recording
Combination of 1 Stream/Recording at 1080/30p  and

2 Streams/Recording at 720/30p

3 Streams
1 Stream at 1080/30p and 2 Streams at 720/30p
A realtime preview (360p) can be used in addition to above.
PRODUCT IMAGES
A selection of high resolution images can be found at the link below.
https://s3-ap-northeast-1.amazonaws.com/cerevo-share/liveshell_x_image.zip
EXHIBITION INFORMATION
Event: NAB Show April 18-21
Booth address: Las Vegas Convention Center, Booth C9250
URL: http://nabshow.com/
About Cerevo
Cerevo Inc. (Consumer Electronic REVOlution) is located in Akihabara, Tokyo, Japan with a branch office in Redmond, WA, USA. Cerevo focuses on creating networked devices for consumer and professional users. Cerevo's products have been recognized globally for their unique connected solutions.
Cerevo has developed and released CEREVO CAM – a digital camera with internet connectivity, the LiveShell series – devices to enable live streaming on Ustream and YouTube using only a digital camera, SmartTrigger – a Bluetooth remote to enable the release of your digital camera shutter from your smartphone, LiveWedge – a 4 input HDMI switcher with live streaming capabilities and the XON series of smart sports products. These products are sold in more than 50 countries. For more information, please visit – http://cerevo.com
Press Contact
Cerevo Inc
info-global@cerevo.com
https://www.facebook.com/CerevoGlobal
https://twitter.com/CerevoGlobal