FOR IMMEDIATE RELEASE
21st December 2015, Tokyo
Visualize your snowboarding in real time. CES 2015 award winning SNOW-1 smart snowboard bindings are now available worldwide.
Cerevo, an Internet connected consumer electronics creator and developer, is pleased to announce XON SNOW-1, the world's first smart snowboard bindings and recipient of a 2015 CES Top Tech Award, are now on sale and available worldwide. SNOW-1 will be available for $579 (excluding tax)/€649 from the Official Cerevo Store (http://cerevostore.com/smart-sports/), Amazon US, UK, Germany, France and selected partners worldwide.
XON SNOW-1
https://xon.cerevo.com/en/snow-1/
SNOW-1 are smartphone-connected snowboard bindings with a Bluetooth 4.0 module and various sensors that can measure a snowboarder's weight balance, snowboard flex and other data in real time. Data acquired by the sensors can be sent directly to a connected smartphone via Bluetooth and you can see the measured data in the XON app in real time. They are the world's first snowboard bindings that can be connected to a smartphone enabling riders to analyze and visualize their runs.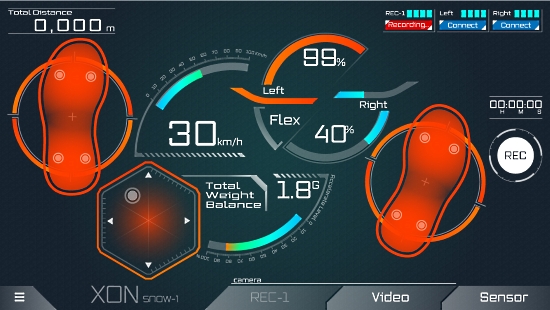 The load balance sensors embedded into the soles of each binding record one of the most important factors in snowboarding, two flex sensors that are attached to the board are able to detect board deflection. Furthermore acceleration, angular velocity, geomagnetism sensors are able to detect the rider's position and direction.
It's possible to overlay sensor data onto a riding video shot using your smartphone. By using the GPS function in your smartphone, the XON app can also map your riding route.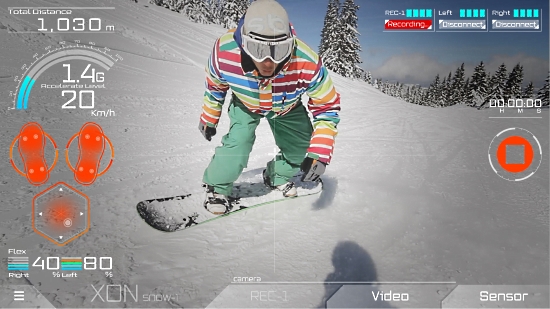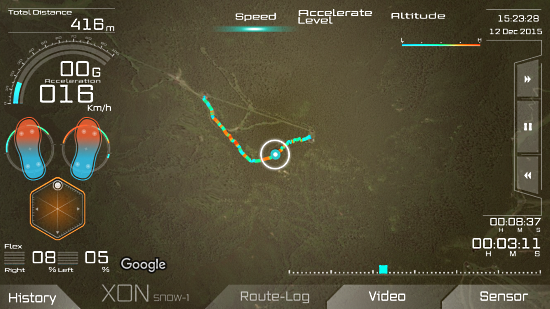 The SNOW-1 bindings have ultra-high brightness LEDs built into the heel and toe. Light levels will respond to the load level sensors in each binding. You can also activate the LEDs to create impressive light trail effects in your dusk riding videos. Instructors and learners can also benefit by being able to easily see each other on the slopes.
SNOW-1 can connect with other products in the XON series, REC-1 and BONE-1, enabling features such as overlaying sensor data from SNOW-1 onto REC-1 video and audio warnings and feedback from SNOW-1 played through BONE-1. REC-1 and BONE-1 will be on sale in early 2016.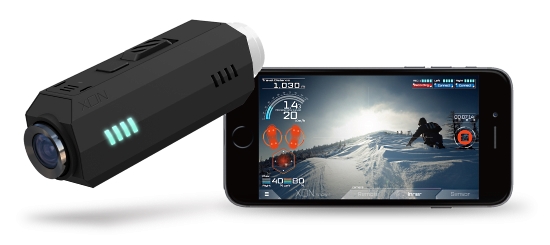 XON REC-1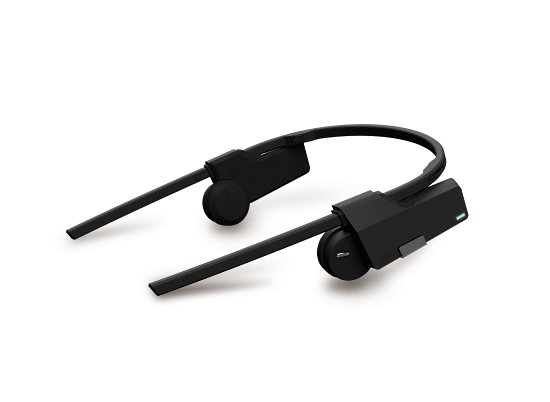 XON BONE-1
XON is at the forefront of a new world where you can easily analyze and visualize sports data. Now you are able to share your tricks with friends and compare your past performance. With the XON series we're pursuing the future of sports.
Press Images
Please see the below URL for a selection of high resolution press images.
https://s3-ap-northeast-1.amazonaws.com/cerevo-share/snow1_release.zip
Specifications
Bluetooth 4.0 (Low Energy)
9-axis sensors (acceleration, angular velocity, geomagnetism)
Dual flex sensors
4 pressure sensors on each binding
2 high luminance LEDs on each binding
Dimensions – W320xD175xH275 mm
Weight – 3.2kg (1 set)
Size – 2 size options

Medium* (shoe size EUR 41-44, US 8-10.5, UK 7-9.5, JP 25.5-27.5cm)
*Medium size will be available on the market mid Jan. 2016
Large (shoe size EUR 43-48, US 10.5-15, UK 9.5-14, JP 27.5-31cm)

Continuous operating time – 7 hours (may change depending on temperature and LED activation duration)
Charging time – 3 hours
Charging port – Micro USB
Waterproof – IPX4 Certified
Weight limit – 100kg
Compatible smartphone – iPhone 5s/iPod Touch 5* or greater with iOS 8.4.1 or greater ( iPhone 6 or greater with iOS 9 or greater recommended)
*iPod Touch can not use route log due to lack of GPS function.
About Cerevo
Cerevo Inc. (Consumer Electronic REVOlution) is located in Akihabara, Tokyo, Japan with a branch office in Redmond, WA, USA. Cerevo focuses on creating networked devices for consumer and professional users. Cerevo's products have been recognized globally for their unique connected solutions.
Cerevo has developed and released CEREVO CAM – a digital camera with internet connectivity, the LiveShell series – devices to enable live streaming on Ustream and YouTube using only a digital camera, SmartTrigger – a Bluetooth remote to enable the release of your digital camera shutter from your smartphone, LiveWedge – a 4 input HDMI switcher with live streaming capabilities and the XON series of smart sports products. These products are sold in more than 45 countries. For more information, please visit – http://cerevo.com
Press Contact
Cerevo Inc.
info-usa@cerevo.com
https://www.facebook.com/CerevoUSA
https://twitter.com/CerevoUSA