24th July, 2019
"FlexTally", a General-Purpose Wireless Tally Lamp System, is Now Compatible with The Software Switcher "vMix"
Wider use is now possible with both hardware and software switchers
Cerevo Inc., an Internet connected consumer electronics manufacturer based in Tokyo, Japan, has released new firmware on July 24th for the general-purpose wireless tally lamp system "FlexTally" which will now be compatible with the software video switcher "vMix", made by StudioCoast Pty Ltd. (Headquarters: Australia)
FlexTally
https://flextally.cerevo.com/
FlexTally is a tally lamp system that is shipped as one station unit (base unit) for connecting to a video switcher and four lamp units (portable units) for connecting to cameras. When multiple cameras are used to shoot recording of programs or live streaming, the FlexTally lamp automatically turns on whenever a switching command is detected from the switcher so the people on air can easily identify which camera is being used.
Since its launch, FlexTally has been globally popular among professionals and private users alike because of the ease and convenience to adopt and operate it. At the world's largest show for media, entertainment and broadcast technology "NAB Show 2019" held in April 2019, we demonstrated switching that was compatible with "vMix", and now this has been officially released. Using the latest firmware update, all FlexTally units will be compatible with "vMix", enabling more options to achieve a professional video switching environment.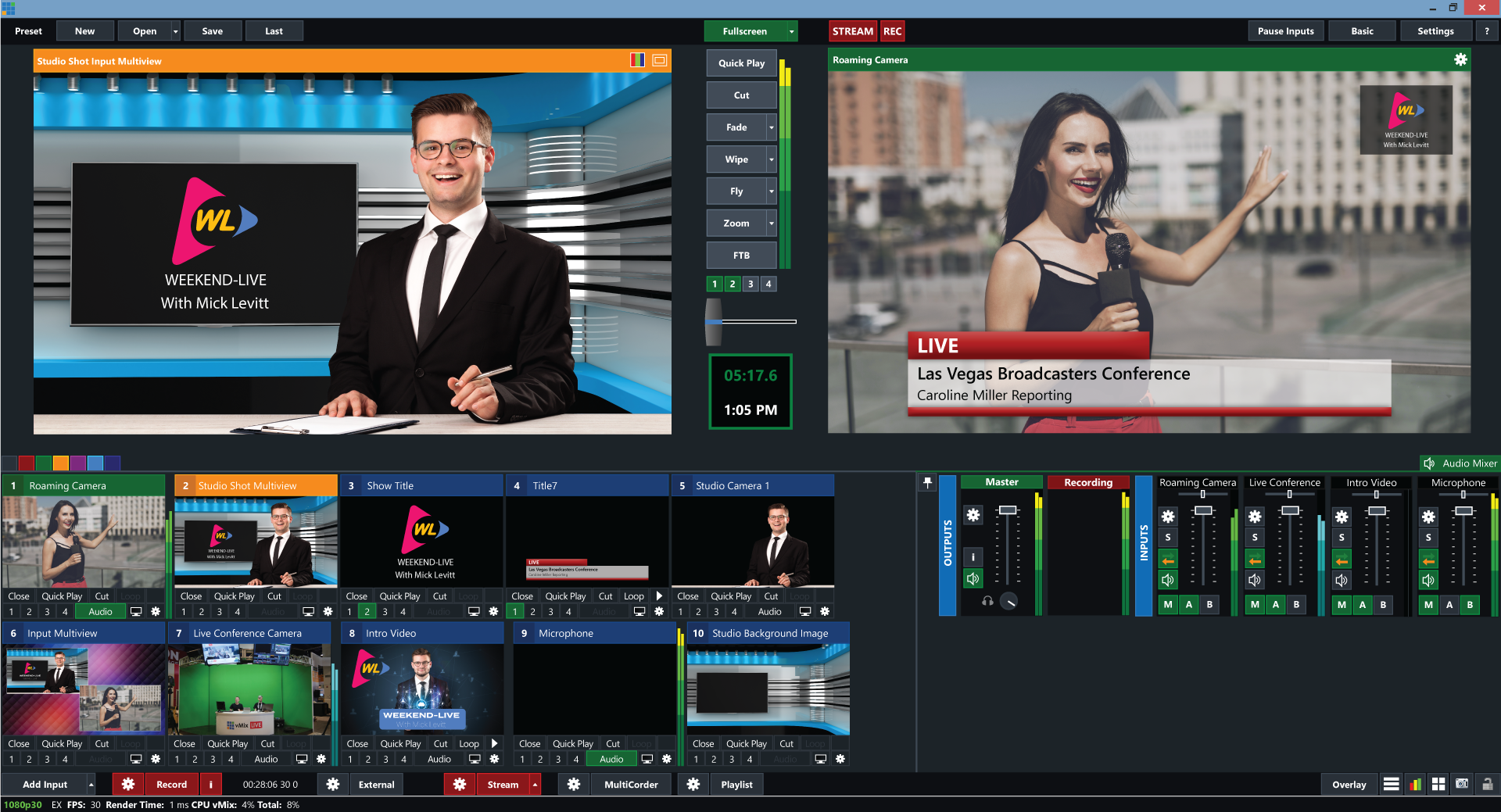 vMix
Currently, there are 15 types of switchers that have been checked for operability and compatibility with FlexTally, including Cerevo's own switcher with live streaming functions, LiveWedge. FlexTally is compatible with other brands switchers*1 such as Blackmagic Design's ATEM series, NewTek's TriCaster series, as well as other switchers that support GPIO-capable connections. In becoming compatible with "vMix", a broader use with either hardware or software switchers is now possible.
Using FlexTally with vMix
To use vMix, please update the firmware on your station unit. In addition, if you are using in Ethernet mode, please install version 1.1.0 of the FlexTally Utility application. If you do not use vMix, there is no need to install the firmware update or the newest PC application. For details on usage, please check the online manual.
FlexTally Utility download
https://flextally.cerevo.com/en/preparation/application/
*Please uninstall version 1.0.0 before installing version 1.1.0.
FlexTally Specifications
Wireless Connectivity
433MHz (US/EU)

*2

Wired Connectivity
RS-485 serial connection
Wireless Connection Distance
Approx. 100m (line-of-sight)
Number of Lamps Supported
16 units

*3

Power
Station
Micro-USB
Lamp
Micro-USB or Battery
Lamp Operation Time
6-12 hours

(will vary depending on the lamp brightness and usage environment)

Lamp Charging Time
Approx. 2 hours
Dimensions

(W×D×H)

Station
128×77×28 mm
Lamp
100×60×50 mm
Weight
Station
142g
Lamp
164g
For details of FlexTally and of compatible switchers please see the following.
3rd Party Switcher Compatibility List
https://flextally.cerevo.com/en/docs/confirmed-switchers/
FlexTally Launch Press Release
Cerevo announces the global availability of "FlexTally", a wireless tally lamp system
https://info-en-blog.cerevo.com/2017/11/30/1877/
Cerevo Live Products
https://youtu.be/bAWlCtjDMAs
A selection of high resolution images of FlexTally can be found at the link below.
https://s3-ap-northeast-1.amazonaws.com/cerevo-share/171130_image_flextally.zip
*1 To connect to your video switcher, you need to set up using either dedicated software provided by Cerevo or a specifically configured cable for GPIO connection.
The cable should be created based on the tally output specifications of the video switcher you are using and FlexTally's tally input specifications.
Specifications of the tally output may be different for each brand and switcher model.
Supported OS for the dedicated software is Windows 10/8.1/7, Mac OS X is scheduled to be supported in the future.
*2 Specifications for the US/EU product version. The version for Japan uses the 315MHz band for connectivity.
*3 Up to 32 lamps will be supported in a future firmware update. 8 lamps can be controlled when connected via GPIO connection to your switcher.
---
About Cerevo
Cerevo Inc. was founded in 2008 and is located in Tokyo, Japan with a branch office in Redmond, WA, USA. Cerevo is a small batch company focusing on making unique networked devices and connected solutions for both consumer and professional users based on its "Global Niche" concept. Cerevo's products have been recognized globally and are sold in more than 85 countries and regions.
Over 25 products have been released including, the LiveShell series – devices to enable live streaming on Ustream and YouTube Live using only a video camera, LiveWedge – a 4 input HDMI switcher with live streaming capabilities, REC-1/LOG-1Tipron – a full HD sports camera with sensor that visualizes your sports activity from the XON series of smart sports products. For more information, please visit – http://cerevo.com
日本語のお知らせはこちら

Press Contact:
Cerevo Inc.
press-global@cerevo.com
https://www.instagram.com/cerevo_global/
https://www.facebook.com/CerevoGlobal
https://twitter.com/CerevoGlobal
Press Release/Alert:
https://info-en-blog.cerevo.com/