10th August, 2017 –
Cerevo releases Android App for the smart riding recorder, XON RIDE-1
Cerevo, an Internet connected consumer electronics developer and creator, announced the new Android App for RIDE-1 today.
RIDE-1 is a smart riding recorder that features a 9 axis sensor, temperature, atmospheric pressure and brightness sensors as well as GPS. The application is compatible with Android 4.3 or later and is available today for free of charge from the link below.
RIDE-1 Android App
https://play.google.com/store/apps/details?id=com.cerevo.rideone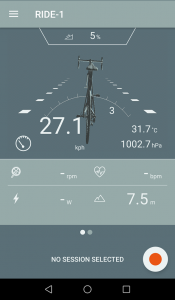 RIDE-1 is Bluetooth enabled, so you can connect your bike to the Internet via your smartphone's 3G or 4G connection and upload and save the data on the cloud service. The uploaded data can be viewed on either a PC or smartphone using a web browser, or on the companion smartphone application, making it possible to look back on past riding data and analyze it. You can also monitor data in real-time data from the built in sensors at a remote location.
The Android App that has been released today supports the equivalent features that the existing iOS App does.  In addition to basic information such as riding route location and velocity, frame status such as lean and impact can be recorded by the main unit. Factors such as speed, cadence and heart-rate are also supported by connecting with existing sensors via ANT+.
For more details on RIDE-1, please see the online manual –
RIDE-1 Manual
https://xon.cerevo.com/en/ride-1/home/
The Apps can be downloaded from here –
https://xon.cerevo.com/en/ride-1/install-the-ride-1-app/
About RIDE-1
RIDE-1 has 9 different internal sensors to monitor a variety of cycling parameters and with RIDE-1's telemetry function, environment data, cycling dynamics, GPS distance information and the route data can displayed in real time on the companion smartphone app. 
About Cerevo
Cerevo Inc. (Consumer Electronic REVOlution) was founded in 2008 and is located in Tokyo, Japan with a branch office in Redmond, WA, USA. Cerevo is a small batch company focusing on making unique networked devices and connected solutions for both consumer and professional users based on its "Global Niche" concept. Cerevo's products have been recognized globally and are sold in more than 60 countries.
Over 25 products have been released including, CEREVO CAM – a digital camera with internet connectivity, the LiveShell series – devices to enable live streaming on Ustream and YouTube Live using only a video camera, LiveWedge – a 4 input HDMI switcher with live streaming capabilities, Tipron – a smart robot projector for homes or businesses, and the XON series of smart sports products. For more information, please visit – http://cerevo.com
Press Contact
Cerevo Inc.
press-global@cerevo.com
https://www.facebook.com/CerevoGlobal
https://twitter.com/CerevoGlobal
https://www.instagram.com/cerevo_global/
A selection of high resolution images regarding the update can be found at the link below.
https://s3-ap-northeast-1.amazonaws.com/cerevo-share/170227_image_liveshell_x_360.zip
Support Contact:
support-global@cerevo.com
Cerevo Online Store
http://gstore.cerevo.com/
※日本語のお知らせはこちら