3th January 2017, Las Vegas
Cerevo Receives CES 2017 Innovation Awards for Lumigent, Newly Released Connected Robotic Smart Desk Lamp
Cerevo Being CES Innovation Awards Honoree in Three Years in a Row
Cerevo, an Internet connected consumer electronics manufacturer based in Tokyo, Japan, pleased to announce that it has been named as a CES 2017 Innovation Awards Honoree in the Home Appliances product category for Lumigent. a robotic smart desk lamp with speech recognition and transformation functions.
This is the third consecutive year tor Cerevo receiving Innovation Award at CES, winning in 2015 for LiveWedge, Cerevo's 4 input HDMI switcher, mixer and recorder, and for ORBITREC, the connected road bike with advanced internal sensors and a 3D printed frame in 2016.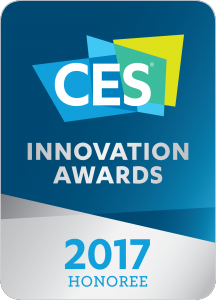 Lumigent recognizes words and automatically performs actions such as lighting and transformation and is equipped with Wi-Fi and an autofocus 8 megapixel camera.
The prestigious CES Innovation Awards are sponsored by the Consumer Technology Association (CTA)TM the producer of CES 2017, the global gathering place for all who thrive on the business of consumer technologies, and have been recognizing achievements in product design and engineering since 1976.
Entries are evaluated on their engineering, aesthetic and design qualities, intended use/function and user value, unique/novel features present and how the design and innovation of the product directly compares to other products in the marketplace.
Cerevo's CES 2017 booth (Sands, Halls A-D – 43412) will also feature 15 other products including the newly released "Taclim". Please check the separate news releases for more details on Lumigent and Taclim.
Press Images
A selection of high resolution images can be found at the link below.
Unveiled at CES 2017 – "Lumigent", a Robotic Smart Desk Lamp
https://s3-ap-northeast-1.amazonaws.com/cerevo-share/170103_image_lumigent.zip
Debuting at CES 2017 – "Taclim", The World's First VR Shoes and Gloves, with Built-in Tactile Devices
https://s3-ap-northeast-1.amazonaws.com/cerevo-share/170103_image_taclim.zip
CES Innovation Awards
http://www.cesweb.org/innovation.aspx
Cerevo's CES 2017 press kit can be found at the link below.
http://cerevo.com/presskit/ces2017

Cerevo's CES site
http://cerevo.com/ces2017/
Exhibition Information
Event Name: CES 2017
Exhibition Period: 5th January to 8th January 2017
Cerevo Booth Address:  Sands, Halls A-D – 43412
Health & Wellness marketplace
Cerevo Inc. | Map Your Show
http://ces16.mapyourshow.com/7_0/exhibitor/exhibitor-details.cfm?ExhID=T0010615
About Cerevo
Cerevo Inc. (Consumer Electronic REVOlution) was founded in 2008 and is located in Tokyo, Japan with a branch office in Redmond, WA, USA. Cerevo is a small batch company focusing on making unique connected products and solutions for both consumer and professional users based on its "Global Niche" concept. Cerevo's products have been recognized globally and are sold in more than 55 countries. Over 25 products have been released including, CEREVO CAM – a digital camera with internet connectivity, the LiveShell series – devices to enable live streaming on Ustream and YouTube Live using only a video camera, LiveWedge – a 4 input HDMI switcher with live streaming capabilities, Tipron – a smart robot projector for homes or businesses, and the XON series of smart sports products. For more information, please visit – http://cerevo.com
Press Contact
Cerevo Inc.
press-global@cerevo.com
https://www.instagram.com/cerevo_global/
https://www.facebook.com/CerevoGlobal
https://twitter.com/CerevoGlobal