A connected smart cycle device RIDE-1 is now available globally
– Share your cycling data captured by sensors in real-time  –
Cerevo, an Internet connected consumer electronics developer and creator, announces the global availability of "RIDE-1" today. It will be available for pre-order today at the Official Cerevo Store as well as Amazon.com for US$299.00 and the product is currently scheduled to ship in January 2017.
RIDE-1 is a clip on cycle device with various sensor modules and is one of the XON series of smart sports products. RIDE-1 allows existing bike owners to use the advanced sensors. The product will be exhibited at CES 2017 from 5th January in Las Vegas, USA.


https://ride1.cerevo.com/
RIDE-1's built in communication features include ANT+, Bluetooth and Wi-Fi, in addition to various sensors such as GPS. Unlike traditional cycle computers that only record running data attached to a bicycle, the characteristics of RIDE-1 allow riding data to be shared and analyzed by linking with smartphones and the cloud.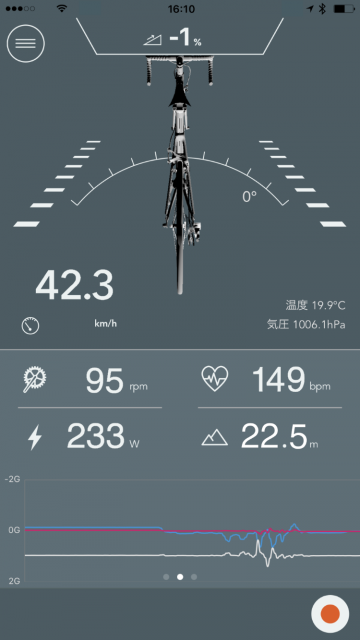 ■Recording Riding Data
RIDE-1 features a 9 axis sensor, temperature, atmospheric pressure and brightness sensors as well as GPS. In addition to basic information such as riding route location and velocity, frame status such as lean and impact can be recorded by the main unit. When combined with a smartphone using Bluetooth, the riding log history can be viewed in real time turning your smartphone into a cycling computer.
■ANT+ Collaboration
RIDE-1 supports ANT+ technology, which is widely used as a wireless connection standard for fitness devices, Bluetooth is also available to communicate with other devices and services. Data on third-party sensors that are compatible with ANT+ can be imported into RIDE-1 (*1) and recorded and viewed on the cloud through RIDE-1. In addition, users can operate devices which support ANT+ by using RIDE-1, for example, automatically turning on an ANT+ compatible light when it gets dark.(*2)
■Data Management in the Cloud
RIDE-1 has built-in IEEE 802.11b/g/n wireless LAN connectivity. You can connect to the Internet via wireless LAN and upload data saved on RIDE-1 to a dedicated web service provided by Cerevo. After uploading, data can be viewed on either a PC or smartphone using a web browser, or on the companion smartphone application, making it possible to look back on past riding data and analyze it.
■Live Telemetry Function
Using the 3G/LTE connection on your smartphone, you can share riding data in real time via the cloud. RIDE-1 is not only useful for informing family and friends of your location while riding, but also can record and make available body data such as the position of riders running, heart rate and power value to the accompanying support car or technical pit crew. Advanced bicycle riders can use the real time telemetry data to get feedback on their performance and progress.
■Group Function
It is possible to group registration of multiple RIDE-1 devices and view live telemetry from multiple riders. During cycling with a riding group, team mates or friends, you can check in real time information about your group's current progress. You can also use the RIDE-1 group function to check current location on the way to a meeting place.
■Open Source
Cerevo plans to offer multiple resources for third-party developers with open source licenses such as the 3D CAD data of RIDE-1 and Bluetooth Low Energy connectivity specifications. An API is also planned, which can be used for exporting RIDE-1 data and incorporating it into other applications.
Specifications

Dimensions
W145xD32xH23mm
Weight
75kg
Sensors

9 axis sensor (acceleration, angular velocity, geomagnetism), temperature,  

atmospheric pressure

, brightness

Wireless LAN
IEEE 802.11b/g/n
Bluetooth
4.1 (BLE)
ANT+
on-board
GPS
on-board
Battery life
approx. 15 hours
Charging time:
approx. 3 hours

Water-resistant

IPX5

Application OS support

iOS 8.3 or greater (Android scheduled to be supported)
Charging port
Micro USB
Accessories
Micro USB cable, Bike Mount (S/M), Mount Screw x2
MSRP
US$299.00
※1 Factors such as speed, cadence and heart-rate are supported at release. In the future, power meters will be supported.
※2 Will be supported in a future update.
Official Movie


Cerevo Online Store
http://gstore.cerevo.com/
Press Images
A selection of high resolution images can be found at the link below.
https://s3-ap-northeast-1.amazonaws.com/cerevo-share/161215_image_ride1.zip
Exhibition Information  
Event Name: CES 2017
Exhibition Period: 5th January to 8th January 2017
Cerevo Booth Address:  Sands, Halls A-D – 43412
Health & Wellness marketplace
Cerevo Inc. | Map Your Show
http://ces16.mapyourshow.com/7_0/exhibitor/exhibitor-details.cfm?ExhID=T0010615
About Cerevo
Cerevo Inc. (Consumer Electronic REVOlution) was founded in 2008 and is located in Tokyo, Japan with a branch office in Redmond, WA, USA. Cerevo is a small batch company focusing on making unique networked devices and connected products and solutions for both consumer and professional users based on its "Global Niche" concept. Cerevo's products have been recognized globally and are sold in more than 55 countries.Over 25 products have been released including, CEREVO CAM – a digital camera with internet connectivity, the LiveShell series – devices to enable live streaming on Ustream and YouTube Live using only a video camera, LiveWedge – a 4 input HDMI switcher with live streaming capabilities, Tipron – a smart robot projector for homes or businesses, and the XON series of smart sports products. For more information, please visit – http://cerevo.com

Press Contact
Cerevo Inc.
press-global@cerevo.com
https://www.facebook.com/CerevoGlobal
https://twitter.com/CerevoGlobal

※日本語プレスリリースはこちら
Support Contact:
support-global@cerevo.com