FOR IMMEDIATE RELEASE
3th January 2017, Las Vegas
Unveiled at CES 2017 – "Lumigent", a Robotic Smart Desk Lamp
– It Lights, Transforms and Captures Images Automatically When You Talk
– Cerevo Named As CES 2017 Innovation Awards Honoree for Lumigent
Cerevo, an Internet connected consumer electronics manufacturer based in Tokyo, Japan, announces Lumigent, a robotic smart desk lamp with speech recognition and transformation functions.
It will be exhibited at CES Unveiled on 3rd January and at CES 2017 which runs from 5th to 8th January  in Las Vegas, Nevada, United States. Lumigent is scheduled to be available for purchase in Autumn 2017 at a price between US$400 to $700.
Lumigent
https://lumigent.cerevo.com
When speaking to Lumigent, it recognizes words and automatically performs actions such as lighting and transformation. The main body has a movable axis with four-degree-freedom, and when not in use, it waits in a folded space-saving state. When the user calls "Hi Lumi, Turn on", the light lights up at the optimum position set in advance without needing to operate the main unit or the smartphone application.
Lumigent is equipped with Wi-Fi and an autofocus 8 megapixel camera. The user can automatically capture documents and objects on their desk and save them on a microSD or cloud via Wi-Fi. Users can operate Lumigent's camera with only their voice and there is no need to operate the main unit. This freedom allows the user to take pictures or videos with both hands working or of themselves pointing with a finger or pen. Lumigent's camera can capture still images and videos, as well as time lapse images.
Lumigent has a Micro USB terminal and can be used as an 8 megapixel web camera when connected to a PC with a USB cable. Simply talk to Lumigent before starting a video conference or call and it will automatically move the camera from the position used for lighting, to the optimum angle for video calls. Ethernet connectivity is available as an option.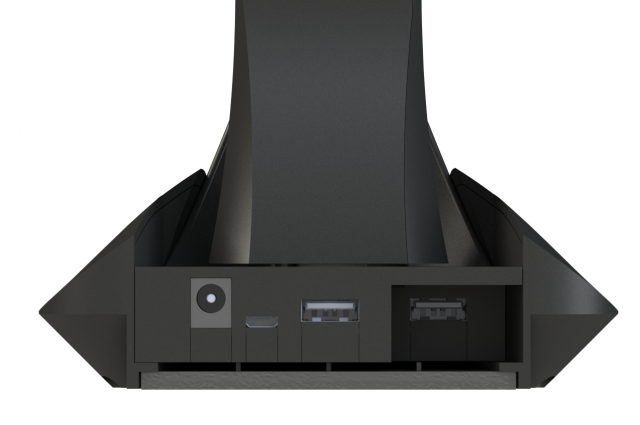 Cerevo is also pleased to announce that it has been named as a CES 2017 Innovation Awards Honoree in the Home Appliances product category for Lumigent. This is the third consecutive year Cerevo has received an Innovation Award at CES, winning in 2015 for LiveWedge and in 2016 for ORBITREC.
Specifications (Subject to change during development)
 Light Source
 LED (6200K・Ra90)
 LED Power
 10W
 Camera Resolution
 Max. 8 megapixels
 Internet Connectivity
 Wi-Fi (IEEE 802.11a/b/g/n/ac)
Ethernet (10BASE-T/100BASE-TX) *Supported as an option
 Connection Port
 USB (web camera use),
USB port x2
1) for charging only, 2) for Wireless adopter (accessory)
microSD card slot
 Power
 AC adapter
 Application OS support
 iOS, Android
 Size
 Before transformation: 200×130×490 mm
After transformation:  620×130×375 mm (W×D×H)
 Weight
 TBD
Press Images
A selection of high resolution images can be found at the link below.
https://s3-ap-northeast-1.amazonaws.com/cerevo-share/170103_image_lumigent.zip
Cerevo's CES 2017 press kit can be found at the link below.
http://cerevo.com/presskit/ces2017
Cerevo's CES site.
http://cerevo.com/ces2017

Exhibition Information
Event Name: CES 2017
Exhibition Period: 5th January to 8th January 2017
Cerevo Booth Address:  Sands, Halls A-D – 43412
Health & Wellness marketplace
Cerevo Inc. | Map Your Show
http://ces16.mapyourshow.com/7_0/exhibitor/exhibitor-details.cfm?ExhID=T0010615
※日本語プレスリリース(こちら)

About Cerevo
Cerevo Inc. (Consumer Electronic REVOlution) was founded in 2008 and is located in Tokyo, Japan with a branch office in Redmond, WA, USA. Cerevo is a small batch company focusing on making unique connected products and solutions for both consumer and professional users based on its "Global Niche" concept. Cerevo's products have been recognized globally and are sold in more than 55 countries. Over 25 products have been released including, CEREVO CAM – a digital camera with internet connectivity, the LiveShell series – devices to enable live streaming on Ustream and YouTube Live using only a video camera, LiveWedge – a 4 input HDMI switcher with live streaming capabilities, Tipron – a smart robot projector for homes or businesses, and the XON series of smart sports products. For more information, please visit – http://cerevo.com

Press Contact
Cerevo Inc.
Chitose Nii, Global Communication
press-global@cerevo.com
https://www.instagram.com/cerevo_global/
https://www.facebook.com/CerevoGlobal
https://twitter.com/CerevoGlobal
###