Cerevo has released a comprehensive update for its entire range of LiveShell live streaming devices. The update includes fixes for every LiveShell device and LiveShell X has added functions such as multi-streaming "play & stop" and displaying SD card recording capacity.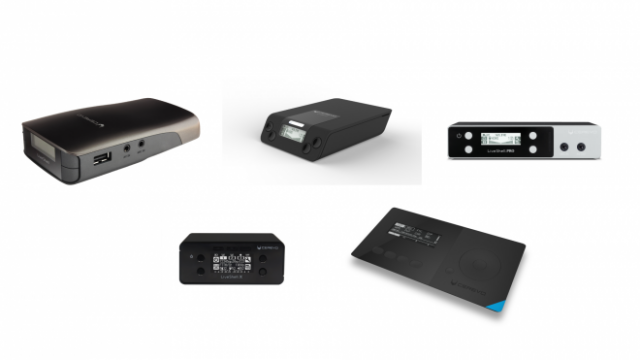 LiveShell X
https://s.cerevo.com/x
The update is available for all four LiveShell devices – LiveShell, LiveShell 2, LiveShell PRO and LiveShell X as well as LiveWedge.

Specific fixes and enhancements include –
For all devices, a fix for when connected to the Internet the device would show as offline in Dashboard and could not be operated.

For all devices except LiveShell, a vertical crop at 9:16 aspect ratio is available so that vertical video from smartphones can now be broadcast.
LiveShell X has been enhanced with new Dashboard functions in addition to the device update. Controls have been simplified so that a button which can start and stop multiple live streaming services at the same time is now available. This makes it unnecessary to open individual tabs of each streaming service to start and stop live streaming. In addition, we added streaming settings buttons for each streaming service tab which simplifies settings changes for each streaming service.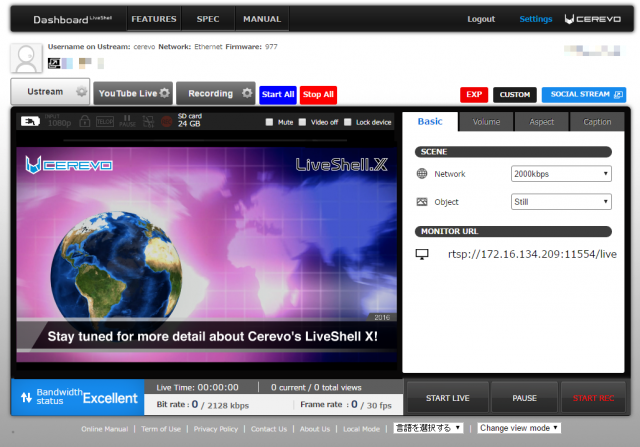 For LiveShell X recording functions, microSD card capacity will now be displayed when inserted into the main unit. Also, when a microSD card is not inserted and you try to perform a recording operation, you get an alert telling you that a card is not inserted.
In the Custom Settings screen for advanced configuration, text descriptions of streaming specifications and restrictions are now listed.
The outline of the restrictions is as follows –
The resolution of channel 0 (the leftmost tab) is the same as the input image and can not be changed

Crop and aspect ratio can not be changed on channel 0

H.265 is effective only when streaming in recording or RTSP mode
Finally, streams not used in audio settings are displayed as grayed out so that you can see at a glance which stream you are using.For more details on each product, please see their online manuals –

LiveShell Series Manual
https://liveshell-manual.cerevo.com/en/

LiveWedge Manual
https://livewedge-manual.cerevo.com/en/
About LiveShell X
LiveShell X was first unveiled at NAB 2016 in Las Vegas and enables you to live stream without a PC. Supporting H.265/H.264 live encoding at up to 1080/60p, realtime recording via microSD and multicasting with up to 3 simultaneous streams, LiveShell X is designed for professional quality broadcasting. For more information please see – https://s.cerevo.com/x

About LiveWedge
LiveWedge is live streaming video switcher, mixer and recorder with 4x HDMI inputs. It also broadcasts live video simultaneously via the Internet. Easy user control is available via the free LiveWedge companion iOS/Android tablet app. It also supports PinP and chroma keying as well as all basic transitions such as wipe, fade, cut etc. For more information please see – http://livewedge.cerevo.com/

About Cerevo
Cerevo Inc. (Consumer Electronic REVOlution) was founded in 2008 and is located in Tokyo, Japan with a branch office in Redmond, WA, USA. Cerevo is a small batch company focusing on making unique networked devices and connected products and solutions for both consumer and professional users based on its "Global Niche" concept. Cerevo's products have been recognized globally and are sold in more than 55 countries.Over 25 products have been released including, CEREVO CAM – a digital camera with internet connectivity, the LiveShell series – devices to enable live streaming on Ustream and YouTube Live using only a video camera, LiveWedge – a 4 input HDMI switcher with live streaming capabilities, Tipron – a smart robot projector for homes or businesses, and the XON series of smart sports products. For more information, please visit – http://cerevo.com
Press Contact
Cerevo Inc.
press-global@cerevo.com
https://www.facebook.com/CerevoGlobal
https://twitter.com/CerevoGlobal

Support Contact:
support-global@cerevo.com