FOR IMMEDIATE RELEASE
16th October 2016, Tokyo
Cerevo at GITEX 2016 – Exhibiting Innovative Home Robot, Live Streaming and Connected Devices
At GITEX 2016 in Dubai, Cerevo will exhibit its latest line-up of connected IoT devices.
Cerevo, an Internet connected consumer electronics developer and creator based in Tokyo, Japan, is pleased to announce that its latest devices will be exhibited at GITEX 2016 at the Dubai World Trade Center from 16th-20th October, 2016.
Cerevo's GITEX 2016 lineup includes, Tipron – a transforming Internet connected projection robot, LiveShell X – a 1080/60p H.265 live video streaming device, REC-1 and LOG-1 – a sports action camera with smart sensor technology and RIDE-1 – a smart sensor for cyclists.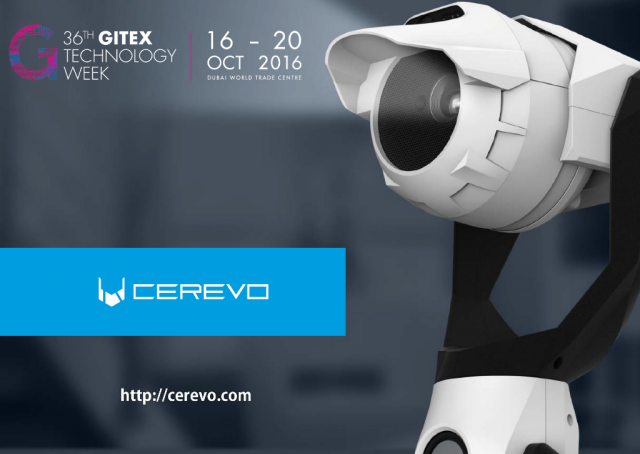 Product Overview
Tipron
Tipron is a home robot that can automatically project an 80 inch screen from a distance of 3 meters. Its transforming function allows it to project at a variety of different heights and angles and contract to a compact size when not in use. Tipron will automatically adjust its height depending on its current operating mode, for example, Tipron can contract to 40 cm height when charging and moving, then expand to 80 cm when projecting. Furthermore, images and video up to 1m high can be projected by adjusting the projection angle.
Tipron comes with built-in speakers and supports a variety of audio of video playback functions. It has a HDCP compatible HDMI input to project video from PC's, game consoles or video players, Tipron can also take advantage of wireless video streamers such as Chromecast to project internet videos. You can view more information on Tipron at – http://tipron.cerevo.com/
LiveShell X
LiveShell X is the latest and most advanced model in Cerevo's line of award-winning LiveShell devices. The innovative device supports live broadcast streaming with HDMI input encoding at up to 1080/60p in H.265 or H.264 and recording to a microSD card without a PC. LiveShell X provides stable, professional quality streaming. It also supports simultaneous multi-streaming and the ability to add subtitles and lower third graphics. You can view more information on LiveShell X at – https://s.cerevo.com/x


XON RIDE-1
RIDE-1 is a cycling telemetry device equipped with a 9-axis sensor and wireless connectivity to capture riding dynamics and share data with your riding group, team mates or friends. RIDE-1's internal sensors to monitor a variety of cycling parameters and with RIDE-1's telemetry function, environment data, cycling dynamics, GPS distance information and the route data can displayed in real time on the companion smartphone app. Cycling data and information can also be sent via your smartphone's 3G or 4G connection to be shared live or in a remote location for monitoring. You can view more information on RIDE-1 at – http://ride1.cerevo.com/
XON REC-1 and LOG-1
REC-1 is a sports camera and the newest member of Cerevo's XON series of smart sports devices. REC-1 will be bundled with LOG-1, a mountable 6-axis companion sensor for REC-1. Sensor data from LOG-1 can be overlaid onto REC-1's 1080p60 video, creating a complete picture of your sports activity. For example, you can combine a first person video of your cycling or motor sports racing with acceleration, braking, turning and location data. You can view more information on REC-1 and LOG-1 at – http://rec1.cerevo.com/
Exhibition Information
Event Name: GITEX 2016
Exhibition Period: 16th October to 20th October 2016
Cerevo Booth Address: New Zabeel Hall SU-44
Exhibitor Link: http://gitex16.mapyourshow.com/7_0/exhibitor/exhibitor-details.cfm?ExhID=691256

About Cerevo
Cerevo Inc. (Consumer Electronic REVOlution) was founded in 2008 and is located in Tokyo, Japan with a branch office in Redmond, WA, USA. Cerevo targets the "Global Niche" marketplace with low volume, high end products for consumer and professional users.
Cerevo has developed and released over 25 products including, the LiveShell series – devices to enable live streaming on Ustream and YouTube Live using only a camcorder, LiveWedge – a 4 input HDMI switcher with live streaming capabilities, Tipron – a smart robot projector for homes or businesses and the XON series of smart sports products. These products are sold in more than 50 countries. For more information, please visit – http://cerevo.com

Press Contact
Cerevo Inc.
info-global@cerevo.com
https://www.facebook.com/CerevoGlobal
https://twitter.com/CerevoGlobal