FOR IMMEDIATE RELEASE
21th September  2016, Tokyo
Cerevo Exhibits an IoT Smart Sensor for Cyclists at Interbike 2016
Cerevo, an Internet connected consumer electronics developer and creator based in Tokyo, Japan, will exhibit RIDE-1 – an IoT smart sensor for cyclists at Interbike 2016 at the Mandalay Bay Convention Center in Las Vegas from 21st -23rd September, 2016.
RIDE-1
http://ride1.cerevo.com/
RIDE-1 is a cycling telemetry device equipped with a 9-axis sensor and wireless connectivity to capture riding dynamics and share data with your riding group, team mates or friends. At Interbike 2016 Cerevo will also exhibit ORBITREC – a titanium and carbon fiber, 3D printed road bike frame with built-in RIDE-1 sensors. These products will be exhibited at Cerevo's booth and at ANT+'s booth and are scheduled to be released in autumn 2016.
Product Overview
RIDE-1
RIDE-1 has 9 different internal sensors to monitor a variety of cycling parameters and with RIDE-1's telemetry function, environment data, cycling dynamics, GPS distance information and the route data can displayed in real time on the companion smartphone app. Cycling data and information can also be sent via your smartphone's 3G or 4G connection to be shared live or in a remote location for monitoring.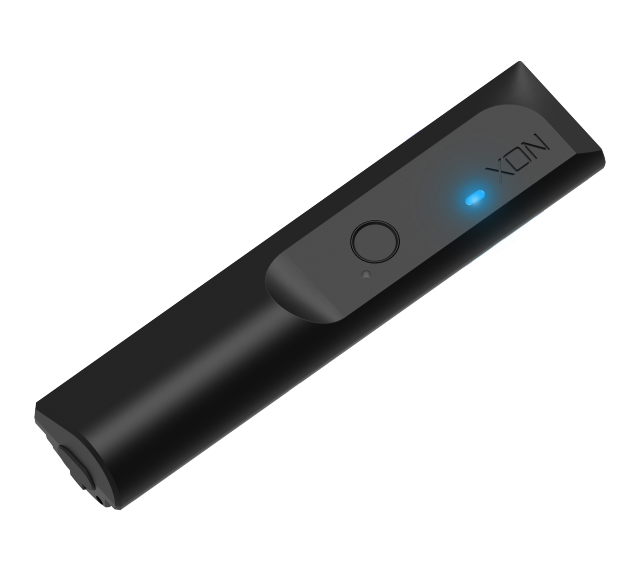 RIDE-1 is compatible with ANT+ technology, it can connect with existing sensors via ANT+ to monitor additional factors such as cadence and heart-rate.*1 Additional functions, such as automatic adjustment of bicycle settings, will be added in future updates.
* 1. In the future power meter, light and suspension control will be supported.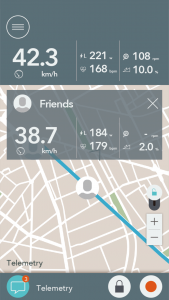 RIDE-1 users can save the historical data accumulated on the RIDE-1 device to the XON web service via Wi-Fi and check archived data on a PC browser or on the smartphone app. It also has a group riding function to let users share and check information about your group in real time.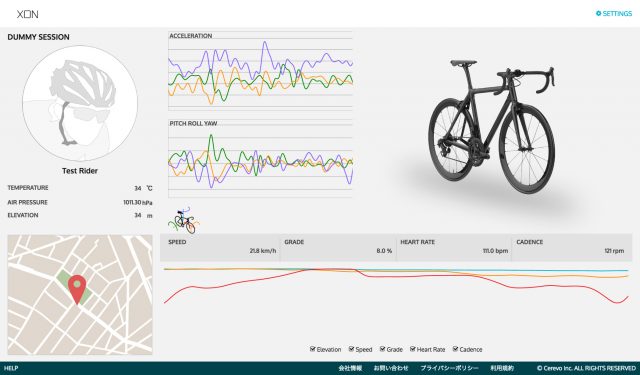 Specifications *2
Dimensions
W145×H23×D32mm
Weight
Approx. 75g
Wireless LAN
IEEE 802.11b/g/n
Operating Time
Approx. 15 Hours
Connectivity
Bluetooth v4.1(BLE), ANT+
GPS
On-board
Sensor Data
9-axis sensor (acceleration, angular velocity, geomagnetism),
temperature, barometric pressure and illuminance.
App Compatibility
iOS 8.3+, (Android TBA)
Charging Port
Micro USB
Accessories
Micro USB cable, bike mount S/M, mount fixing screws×2
MSRP
$299.00
* Specifications may be subject to change
Please refer to the following press release about ORBITREC, a road bike with RIDE-1 built-in for more information – https://info-en-blog.cerevo.com/2016/01/05/243/
Exhibition Information
Event Name: Interbike 2016
Exhibition Period: September 21st to September 23rd 2016
Cerevo Booth Address: 10269
ANT+ Booth Address: 20032
Exhibitor Link: https://n1b.goexposoftware.com/events/ib16/goExpo/exhibitor/viewExhibitorProfile.php?__id=700

About Cerevo
Cerevo Inc. (Consumer Electronic REVOlution) was founded in 2008 and is located in Tokyo, Japan with a branch office in Redmond, WA, USA. Cerevo targets the "Global Niche" marketplace with low volume, high end products for consumer and professional users.
Cerevo has developed and released over 25 products including, the LiveShell series – devices to enable live streaming on Ustream and YouTube Live using only a camcorder, LiveWedge – a 4 input HDMI switcher with live streaming capabilities, Tipron – a smart robot projector for homes or businesses and the XON series of smart sports products. These products are sold in more than 50 countries. For more information, please visit – http://cerevo.com
Press Contact
Cerevo Inc.
info-global@cerevo.com
https://www.facebook.com/CerevoGlobal
https://twitter.com/CerevoGlobal