FOR IMMEDIATE RELEASE
July 29, 2015 | Tokyo
Cerevo Has Released "BlueNinja" an IoT Module, Using the Toshiba TZ1001 SoC, to Aid IoT Startups and Makers
Cerevo, the IoT startup based in Tokyo, has released the IoT module "BlueNinja". BlueNinja is a small module utilizing the Toshiba TZ1001 SoC (system on a chip), 9 axis sensor and an air pressure sensor. BlueNinja was developed in Akihabara, Tokyo, Japan.
BlueNinja preorders have begun in Japan, and the module will start shipping from the beginning of August at 4890 Japanese yen (around $40). Cerevo is planning to ship BlueNinja worldwide after gaining FCC and CE certification, the international price is still to be confirmed.
BlueNinja will be exhibited at the RISE Conference in Hong Kong on July 31st and at Maker Faire Tokyo 2015, on August 1st and 2nd.
About BlueNinja
BlueNinja is a small IoT module using Toshiba's low energy SoC `TZ1001` as the main SoC and includes a 9 axis sensor and a pressure sensor. By connecting a lithium ion battery, IoT gadgets like an activity tracker can easily be made. This module can be used by both amateurs and professionals to make prototypes and can even be used for mass produced products as an easy to use module for an instant development.
Toshiba is providing the TZ1001 chip and has provided design information to make this module. Cerevo has developed this module using its experience as a hardware startup making IoT devices, with the aim to drive development of a new generation of IoT devices.
The module will be sold as a single unit and also with a development kit including a breakout board and debugger. Bulk buying for 100 units or 1000 units is also available.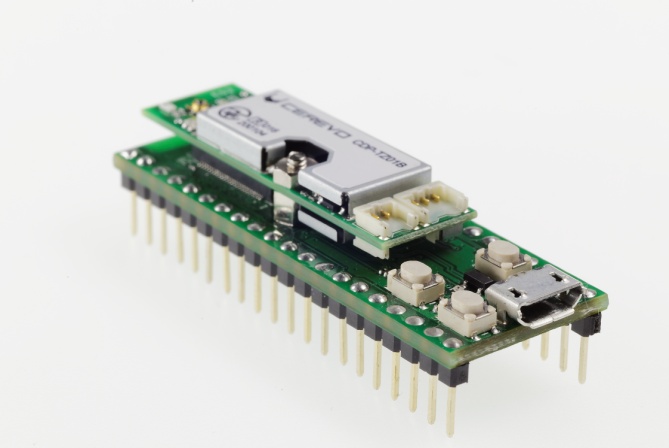 BlueNinja on a breakout board with debugger.
Prototype Samples Using BlueNinja

BlueNinja implemented in a Tamiya Mini 4WD toy car.

Displaying parameters from on board sensors in real time. (Telemetry app)

A smartwatch prototype made with BlueNinja and nixie tubes.
Specifications
| | |
| --- | --- |
| Wireless Connection | Bluetooth 4.0(Low Energy) |
| Main SoC | TZ1001MBG |
| CPU | 32bit ARM Cortex-M4F 48MHz |
| RAM | 288kByte |
| FLASH | 1024kByte |
| Interface | GPIO / USB(device) / SPI / I2C / UART |
| Sensors | 9 axis sensor, pressure sensor |
| Wireless Certification | TELEC, FCC(Scheduled), CE(Scheduled) |
| Voltage | 3.3V |
| Size | 11.0×37.5×5.1mm(width×length×height) |
| Weight | 2g |
Exhibition Information
Event: RISE Conference, July 31st
Booth Address: Hong Kong Convention Center, B103 in the Builders area
https://riseconf.com/
Event: Maker Faire Tokyo, Aug 1st & Aug 2nd
Booth Address: Tokyo Big Sight
http://makezine.jp/event/mft2015/en/
Media Kit
https://s3-ap-northeast-1.amazonaws.com/cerevo-share/bn_image.zip
https://www.flickr.com/photos/134322172@N03/sets/72157656447931982/
About Cerevo
Cerevo Inc. was named after (Consumer Electronic REVOlution) and its HQ is located in Akihabara, Tokyo, Japan with a branch office in Redmond, WA, USA. Cerevo focuses on creating networked devices for consumer and professional users. Cerevo's products have been recognized globally for their unique connected solutions.
Cerevo has developed and released CEREVO CAM – a digital camera with internet connectivity, the LiveShell series – devices to enable livestreaming on Ustream and YouTube using only a digital camera, SmartTrigger – a bluetooth remote to enable the release of your digital camera shutter from your smart phone and LiveWedge – a 4 input HDMI switcher with live streaming capabilities. These products are sold in more than 37 countries. For more information, please visit – http://cerevo.com
Press Contact
Cerevo Inc
info-usa@cerevo.com
https://www.facebook.com/CerevoUSA
https://twitter.com/CerevoUSA