FOR IMMEDIATE RELEASE
June 30, 2015 | Tokyo
Cerevo releases Android beta app for LiveWedge
Cerevo, the IoT startup based in Tokyo, has released the Android beta app for LiveWedge, it's award winning 4 input HDMI switcher, mixer and recorder. You can download the app from Google Play.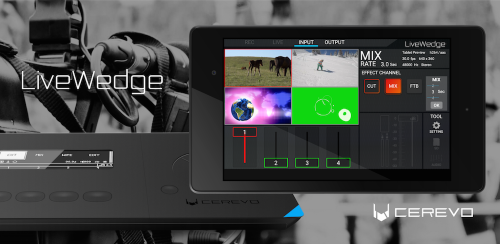 LiveWedge (Google Play)
https://play.google.com/store/apps/details?id=com.cerevo.livewedge
As the Android app release is the first beta version, functions are currently limited (cut, mix and change input/output) compared with the iPad app. We will add functions throughout the rest of year so the Android app will match all functions and features of the iPad app.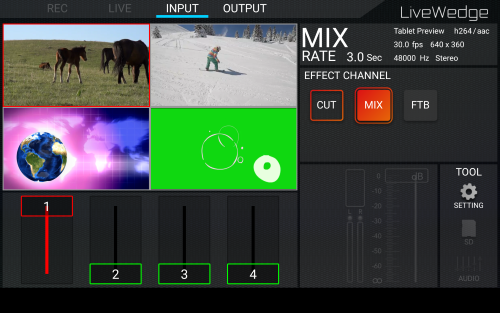 Functions Currently Supported
Video Effects: cut(quick cut/manual cut), mix(auto mix/manual mix)
Change input/output
Android Device Requirements
Android Version: Android 4.2 and up
CPU Supported: ARM/x86(Intel)
Display Size: 7 Inch and larger
Officially Tested On: Nexus 7
About LiveWedge
LiveWedge is an award winning 4 input HDMI switcher, mixer, recorder and livestreamer. It can be easily controlled via smartphone or tablet using the LiveWedge app. LiveWedge supports video effects such as PinP and chroma keying as well as all basic transitions such as wipe, fade and cut.
About Cerevo
Cerevo Inc. was named after (Consumer Electronic REVOlution) and its HQ is located in Akihabara, Tokyo, Japan with a branch office in Redmond, WA, USA. Cerevo focuses on creating networked devices for consumer and professional users. Cerevo's products have been recognized globally for their unique connected solutions.
Cerevo has developed and released CEREVO CAM – a digital camera with internet connectivity, the LiveShell series – devices to enable livestreaming on Ustream using only a digital camera, SmartTrigger – a bluetooth remote to enable the release of your digital camera shutter from your smart phone and LiveWedge – a 4 input HDMI switcher with live streaming capabilities. These products are sold in more than 34 countries. For more information, please visit – http://cerevo.com
Press Contact
Cerevo Inc
info-usa@cerevo.com
https://www.facebook.com/CerevoUSA
https://twitter.com/CerevoUSA