FOR IMMEDIATE RELEASE
Cerevo Announces SNOW-1, its First Sports Gear with Smartphone Connectivity
SNOW-1 Visualizes Body Movements of Snowboarders and Adds Visual Effects with LED Lights.
January 4, 2015 | Tokyo
Cerevo today announced its newly developed snowboard bindings "SNOW-1". Cerevo is planning to release Sports Gears for smart sports under the brand name XON and SNOW-1 is its first product.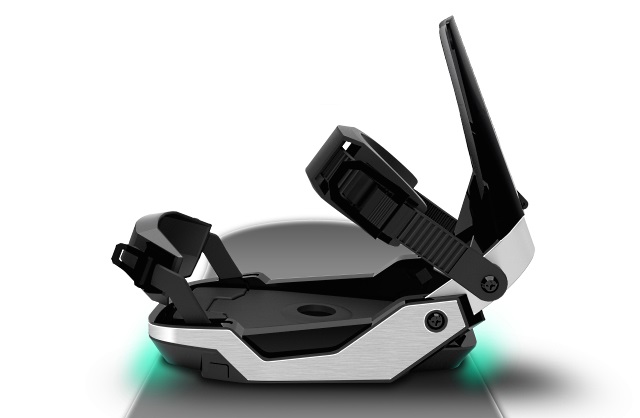 XON SNOW-1
https://xon.cerevo.com/en/
SNOW-1 will be displayed at 2015 CES unveiled from Jan. 4th, 2015 and at International CES 2015 from Jan. 6th 2015. SNOW-1 is scheduled to be on sale within this year.
CONCEPT
SNOW-1 is snowboard bindings with Bluetooth4.0 LE module and various sensors. Data measured and accumulated when using SNOW-1 will be transmitted to smartphone in real time connected by bluetooth which allows snowboarders to analyze their rides.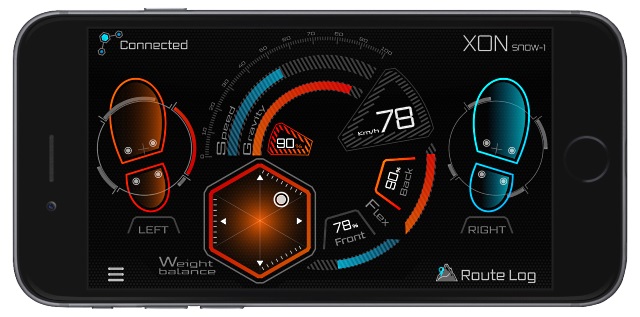 Load censors located 4 places under each foot measures the shift of loads by snowboarder and position of the center of gravity. In addition, 2 distortion censors placed in front and end of the snowboard will measure distortion of the board at each section. By checking those data in real time when practicing boarding, snowboarders will be able to get more feedback to get skilled.
Measured data can be displayed and overlapped to movies recorded by smartphone. GPS data allows to check the path of the riding, too. By checking measured data with movie, snowboarders will be able to check their rides in an objective way. Information will be displayed graphically on smartphone which helps to grasp their rides from beginners to professionals easily.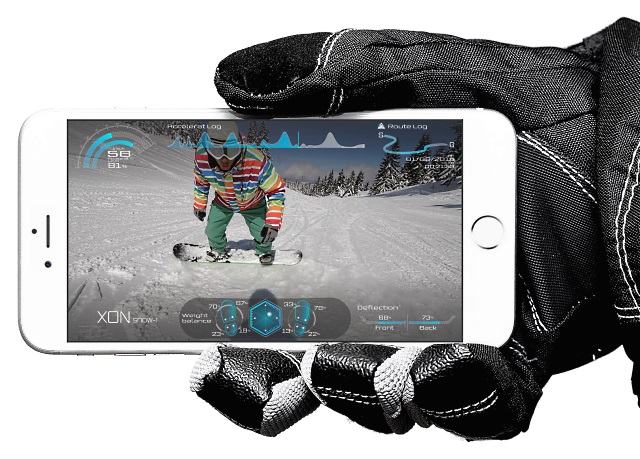 In SNOW-1, super luminosity LED lights are installed in toe and heel sections which can be observed from the place 100 meters/30 feet away. LED illuminate by the movement of the boarder so boarders can use this function to add visual effects to their rides or to check their riding form by getting indicated with lights during their rides.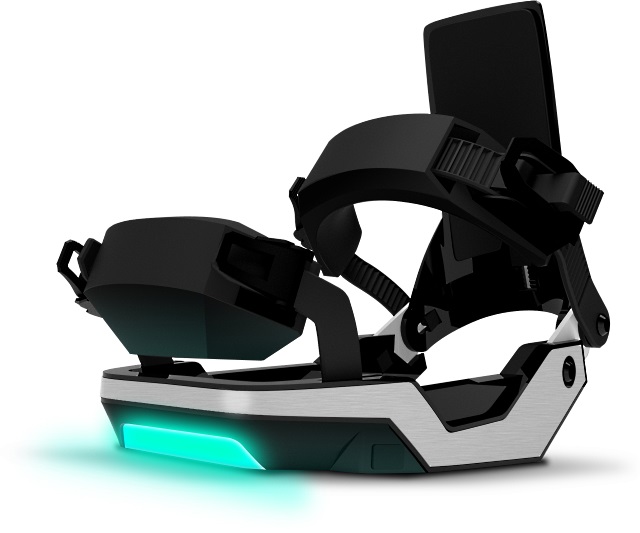 BACKGROUND FOR DEVELOPMENT
It's been 40 years after snowboarding became a popular sports. A lot of advancement made on materials or shapes of the board but not a big innovation had occurred on the point how to improve the skill. We started to plan this product from the view point how consumer electronics developer can cause innovation in snowboarding experience. We used all our know-hows to develop an IoT gear.
It is important to understand how you put loads on the board, and how you shift the center of the gravity and how board is distorting but those information are not easy to grasp not only for beginners but also for professionals.
Shooting video for riding will help to check the riding form but it was difficult to grasp exact data of loading on the board and balancing the center of gravity.
SNOW-1 is a new sports gear with various sensors to solve above problem. It makes possible to analyze how boarders put loads on the board in real time and gives feedback to boarders to get skilled more easily.
You will enjoy this new experience on snowboarding.
SPECIFICATION(MAY CHANGE)
-Bluetooth 4.0(Low Energy)
-3 axis acceleration sensor
-2 distortion sensors
-Load Sensors: 4 sensors for each binding (8 in total)
-Super Luminosity Lights: 2 lights for each binding (4 in total)
-Planned Price: $400 – $600
About Cerevo
Cerevo was named after (Consumer Electronic REVOlution) and its HQ is locating in Akihabara, Tokyo, Japan. Cerevo focuses on creating network consumer devices. Cerevo makes its efforts to improve your daily life through the use of its products with the unique internet solutions.
Cerevo had developed and released CEREVO CAM, a digital camera with internet connectivity, LiveShell series, a device to enable to live stream on Ustream only with your digital camera, SmartTrigger, a Bluetooth remote to enable to release the shutter of digital camera from your smart phone, and EneBRICK, a mobile battery with function to connect USB keyboard for tablets. Those products are sold for more than 23 countries. For more information, please visit http://cerevo.com
Press Contact
info-usa@cerevo.com
Cerevo USA LLC 8201 164th Ave NE, Suite 200 Redmond, WA 98052-7604