27th February, 2019
Final Production Run of the Smart-Toy "DOMINATOR" this Spring
Last Order Opportunity Coming Soon

Cerevo Inc., an Internet connected consumer electronics manufacturer based in Tokyo, Japan, announces that the final production run of its smart toy DOMINATOR and all the related accessories will happen in Spring 2019. DOMINATOR availability and sales at the Cerevo Official Store will also end when the final production run stock sells out.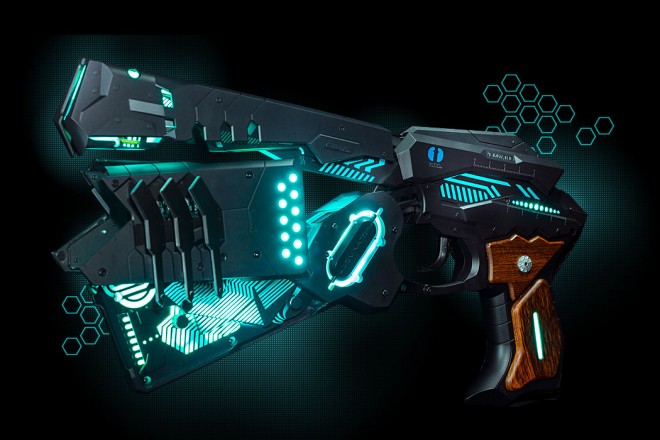 DOMINATOR was created under the supervision of Production I.G director Naoyoshi Shiotani and Nitroplus designer Makoto Ishiwata. DOMINATOR features characteristics identical to the devices seen in PSYCHO-PASS such as automatic transformation, voiceover and sound effects, authentic LED lighting, touch sensor activation, Crime Coefficient analysis and more. DOMINATOR can also be connected to the Official Companion App to enable connected features.
DOMINATOR was released for sale in February 2016 and has been purchased all over the world including Japan, US, Europe and Asia, proving popular with many fans of the hit anime PSYCHO-PASS.
Cerevo made the decision to end production of DOMINATOR due to the difficulty in purchasing new parts necessary for the manufacturing of DOMINATOR. In addition, production of related products and accessories will also be terminated. Products to be discontinued are the following –
Products subject to discontinuation*1
DOMINATOR
DOMINATOR SPECIAL EDITION
DOMINATOR Protector Case
DOMINATOR Display Stand
Last Order Opportunity
DOMINATOR orders will be accepted from 13:00 on Sunday, March 17 (JST)*3 2019 at the Cerevo Official Store*2 for inventory from the final production run. Orders will be limited to one set per person and will be delivered sequentially from the end of April 2019.*4 *5

Cerevo Official Store
Orders will be accepted at the following web page starting on Sunday, 17th March 2019 at 13:00 (JST)*6
http://gstore.cerevo.com/smart-toy/dominator/
DOMINATOR + Protector Case + Display Stand Set
US$ 1,027
DOMINATOR SPECIAL EDITION + Protector Case + Display Stand Set
US$ 1,127
After the end of sale of DOMINATOR, we are planning to rent out products in collaboration with a rental service*7. Cerevo will continue to make efforts to encourage fans of the anime PSYCHO-PASS to enjoy Cerevo products. Details of the rental service will be announced after Spring 2019.
*1 With the end of production and sale of DOMINATOR, handling of "CTP-DM01A / CTP-DM01A-SP extended warranty service" will end on Thursday, April 25, 2019.
*2 For details of DOMINATOR stock at other retailers, please contact each dealer/retailer.
*3 Orders for the DOMINATOR main unit are limited to being ordered as a set, which consists of the DOMINATOR main unit, Protector Case, and Display Stand. You cannot purchase the DOMINATOR main unit alone. Protector Cases and Display Stands are available to purchase individually.
*4 Even those who have purchased before can place an order. New orders are limited to one set per person.
*5 There is no change in the standard warranty period and support service due to the end of production. However, please note that secondary purchase by third parties may not be covered by product warranty or support.
*6 Before the order start date and time the product will not be displayed on the web page, or it will be listed but unavailable order.
*7 The rental service is planned only for Japan.
---
About Cerevo
Cerevo Inc. was founded in 2008 and is located in Tokyo, Japan with a branch office in Redmond, WA, USA. Cerevo is a small batch company focusing on making unique networked devices and connected solutions for both consumer and professional users based on its "Global Niche" concept. Cerevo's products have been recognized globally and are sold in more than 80 countries and regions.
Over 25 products have been released including, the LiveShell series – devices to enable live streaming on Ustream and YouTube Live using only a video camera, LiveWedge – a 4 input HDMI switcher with live streaming capabilities, Tipron – a smart robot projector for homes or businesses, and the XON series of smart sports products. For more information, please visit – http://cerevo.com
日本語のお知らせはこちら

Press Contact:
Cerevo Inc.
press-global@cerevo.com
https://www.instagram.com/cerevo_global/
https://www.facebook.com/CerevoGlobal
https://twitter.com/CerevoGlobal
Press Release/Alert:
https://info-en-blog.cerevo.com/