8th January, 2018 (PST) –
Announcing "Qvie"- a Mobile, Cashless, Minimal Private Vending Box
– Owners need no power supply or dedicated internet connection to operate the box
Users can purchase products inside without cash  –
Cerevo Inc., an Internet connected consumer electronics manufacturer headquartered in Tokyo, Japan, announces "Qvie", a minimal, connected, cashless private vending machine with 4G/3G connectivity. Owning Qvie allows you to instantly make your own shop and sell what you want, anywhere.
Cerevo has developed Qvie so an extra value and revenue can be added to the growing number of sharing economy businesses such as leasing or renting short-term lodgings, room sharing, car sharing and so on. Qvie's prototypes will be exhibited at CES 2018 which runs from 9th to 12nd January 2018 in Las Vegas, Nevada, United States and it is scheduled to be available for purchase in mid 2018.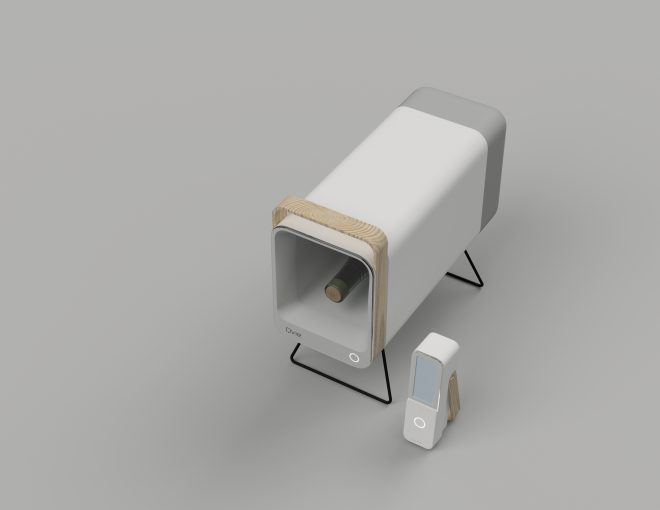 Qvie consists of an individually designed cargo unit where products will be stored and a head unit with an e-paper display which is for a payment settlement. When users and guests tap their mobile payment app on their smartphone, Qvie's door automatically opens and users can take the products inside.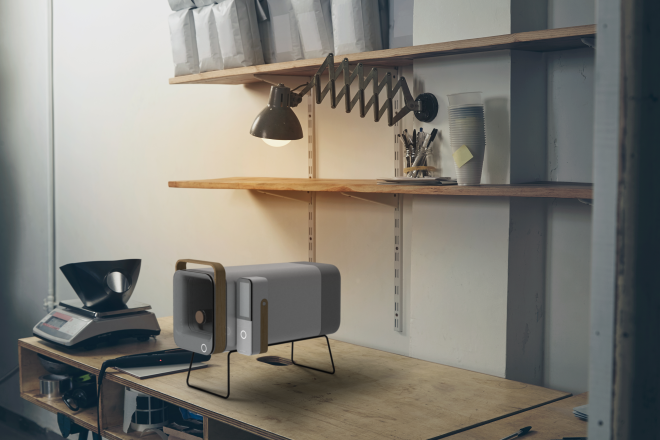 It requires no power supply nor complicated set up of a dedicated network connection thanks to its lithium-ion battery for both the cargo unit and head unit that operates the electric door, and its own 4G/3G connectivity. Qvie will run for 1 month on battery power alone once the battery is charged so owners do not have to worry about a power supply or network connection.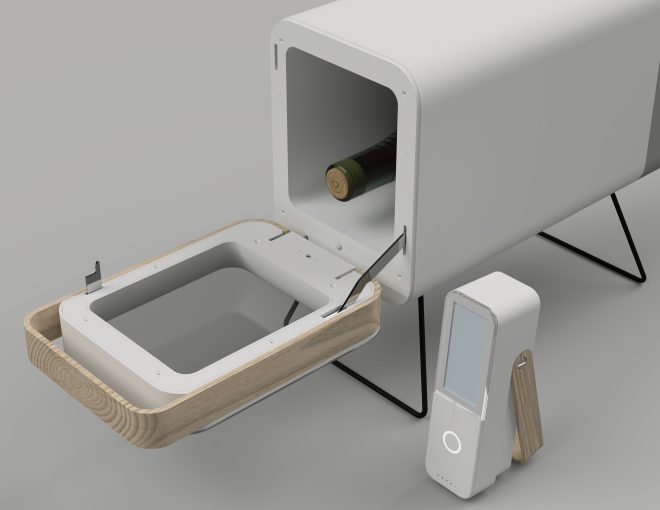 One head unit can manage multiple cargo units, so owners can create their own vending machines as they like according to available space and product type.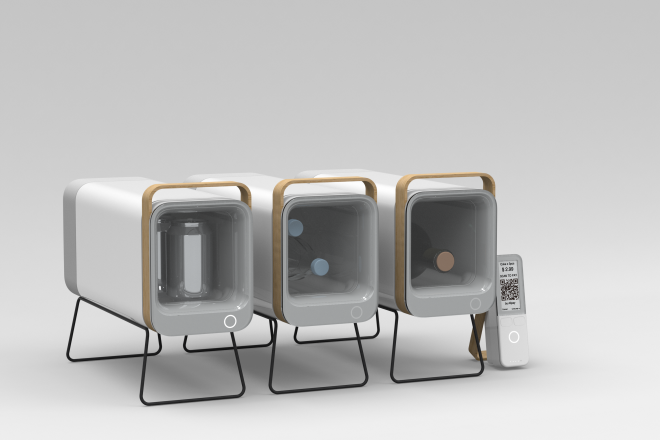 Qvie doesn't require a shopkeeper to be present to take payments. Currently Qvie supports mobile payment services using QR codes, as well as other major mobile payment services which don't require a QR code. Users can purchase products inside Qvie as long as they are using an eligible mobile payment service and don't need a service subscription. Qvie owners can manage information such as the number, duration, and frequency of door openings, when products were sold, how many were sold, and so on., through their smartphone in real-time, so quick stock replenishment is possible (*)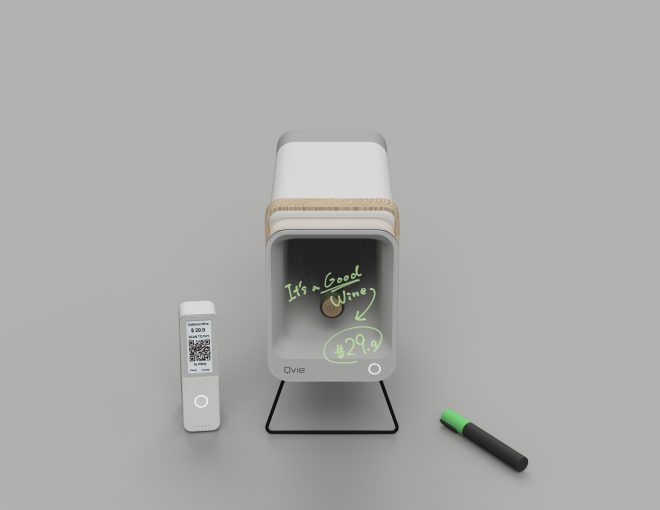 For example, a Qvie owner can place it in their Airbnb rooms as a value-added service for their guests. In the cargo space you can sell things that guests want to get quickly in daily life wherever they are, snacks, beverages, T-shirts, mobile chargers, etc., can all easily fit inside and be safely stored. The owner's setup is quick and simple, just enter the price and detailed information of the products inside Qvie via the dedicated website control panel, the door of the cargo unit will lock and then be ready to accept sales.
Qvie was developed by combining ideas and technology innovation to lower operational hurdles such as payment in cash, physical product delivery and inventory that are associated with existing C2C business such as the sharing economy (Airbnb and others), traditional flea markets and local tourist specialties. Cerevo aims to contribute to C2C business expansion with Qvie.
.(*) The monthly fee/cost structure has not been decided as the product is still in development.
Specifications*Subject to change during development.
Dimensions
Head Unit
44×45×150mm (W×D×H)
Cargo Unit
146×383×210mm (W×D×H *Excluding the stand)

159×383×305mm (W×D×H *Including the stand)

Weight
Head Unit
TBD
Cargo Unit
TBD
Wireless Connectivity
3G/4G
Payment Method
QR Code, NFC
Battery Operating Time
Approx. 1 Month
Application OS Compatibility
iOS/Android
A selection of high resolution images can be found at the link below.
https://s3-ap-northeast-1.amazonaws.com/cerevo-share/180109_image_qvie.zip
Cerevo @CES 2018 Booth Information:
Exhibition Period: 9th to 12th January 2018
Booth: Sands Expo, Level 2, Halls A-D – 43307
Open Exhibition Grounds map
CES 2018 details: https://www.ces.tech/
Official Show Locations: https://www.ces.tech/Show-Floor/Locations

日本語プレスリリースはこちら
About Cerevo
Cerevo Inc. (Consumer Electronic REVOlution) was founded in 2008 and is located in Tokyo, Japan with a branch office in Redmond, WA, USA. Cerevo is a small batch company focusing on making unique networked devices and connected solutions for both consumer and professional users based on its "Global Niche" concept. Cerevo's products have been recognized globally and are sold in more than 65 countries.
Over 25 products have been released including, CEREVO CAM – a digital camera with internet connectivity, the LiveShell series – devices to enable live streaming on Ustream and YouTube Live using only a video camera, LiveWedge – a 4 input HDMI switcher with live streaming capabilities, Tipron – a smart robot projector for homes or businesses, and the XON series of smart sports products. For more information, please visit – http://cerevo.com
Press Contact:
Chitose Nii, Global Communications,
Cerevo Inc.
press-global@cerevo.com
https://www.instagram.com/cerevo_global/
https://www.facebook.com/CerevoGlobal
https://twitter.com/CerevoGlobal
Press Release/Alert:
https://info-en-blog.cerevo.com/
Cerevo Online Store
http://gstore.cerevo.com/