8th January 2018 (PST) –
Unveiling "1/1 scale ELUCIDATOR", an Authentic, Voice Activated,
Smart One-handed Sword
from the anime "SWORD ART ONLINE"

Cerevo Inc., an Internet connected consumer electronics manufacturer headquartered in Tokyo, Japan, announces that it has developed an officially licensed smart toy "1/1 scale ELUCIDATOR", which faithfully reproduces the one-handed sword appearing in the hit anime "SWORD ART ONLINE". Prototypes will be exhibited at CES 2018 which runs from 9th to 12nd January 2018 in Las Vegas, Nevada, United States. ELUCIDATOR is scheduled to be available for purchase in mid 2018.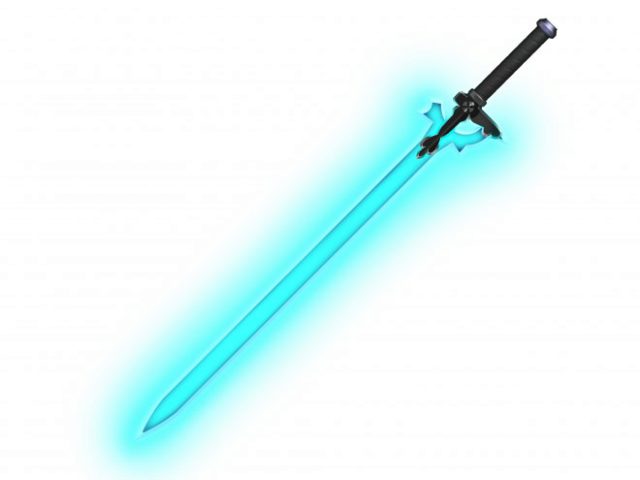 1/1 ELUCIDATOR
https://sao.cerevo.com/en/elucidator/
Cerevo's ongoing project "S2R (From screen to the real world)" creates unique, real world connected versions of objects and devices that appear in animation, games, movies and other media. "ELUCIDATOR" represents the next phase of S2R products developed by Cerevo.
Cerevo focused on popular swords in the fictitious world of animation and movies to develop the "BLADEM (connected BLAde Development and Evaluation Module)" platform, which can reproduce, as a smart toy, swords appearing in various works. As the first product from the BLADEM platform, Cerevo developed an authentic 1/1 reproduction of the one-handed sword "Elucidator" wielded by the main character, Kirito from Sword Art Online. As well as exactly reproducing the appearance of the sword, dazzling light is emitted when the owner wields the blade. 1/1 ELUCIDATOR also uses additional leading-edge technology, such as voice recognition and motion detection to draw you into the original world.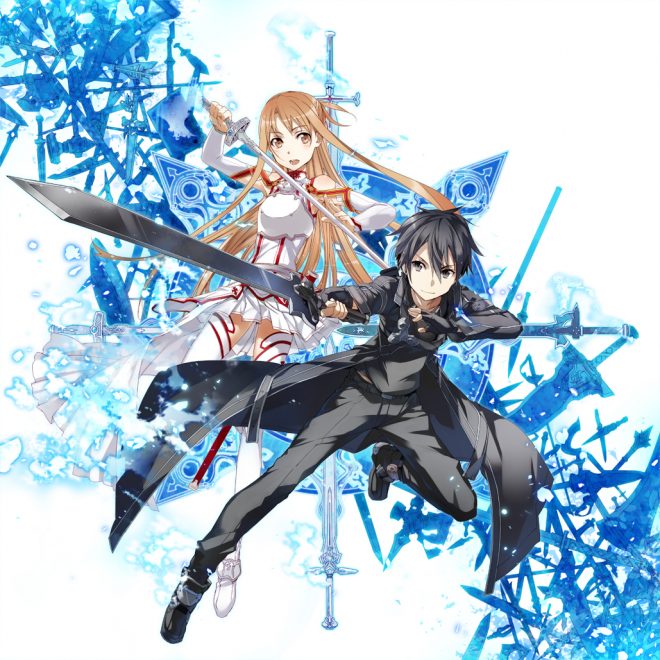 The entire surface of the sword is covered with over 2,000 high brightness, full color LEDs to reproduce the dazzling and brilliant blade from the animation. An internal 6-axis sensor (acceleration, angular velocity) detects sword movement as the sword shines and emits sounds from the built-in speaker according to how it is wielded and swung. The speakers are audible not only to the user but also to the surrounding audience. The LEDs are controlled independently by multiple lighting drivers, so not only does the whole blade glow, but also light can flow from the hilt towards the cutting edge.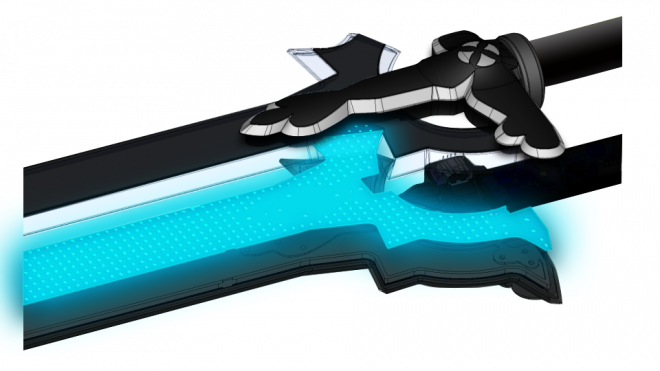 You can activate effects such as "Starburst Stream", one of Kirito's sword skills, and change the way the sword shines and sounds. When specific action is taken by the user, the sound effects of "Starburst Stream" are continuously emitted according to movement and with the last swing, sounds of enemies being defeated can be heard. You can experience the feeling of wielding the blade, with vocalization, movement, and sound interacting, far beyond what is possible with normal toys.
Various settings can be changed from a connected smartphone (via Wi-Fi). Sound effects linked to sword movements can also be played from smartphones. Switching the speaker output to your smartphone and further connecting to an external speaker makes it possible to produce loud sounds from the sword even in places where the surroundings are noisy, like cosplay events.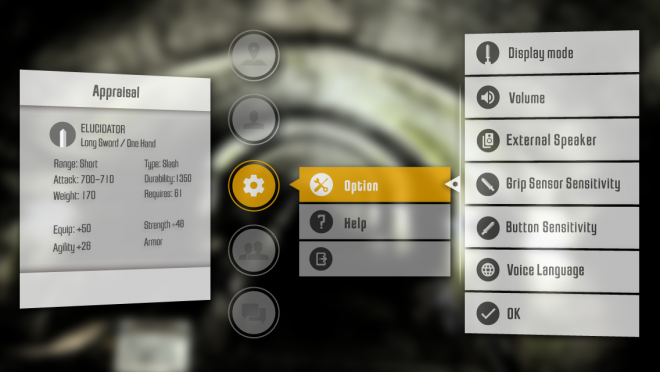 Cerevo plans on producing a series of smart toys which adopt the BLADEM platform in the future, Cerevo will also welcome consultation requests for product development using BLADEM. Basic functions such as smartphone connectivity and a 6-axis sensor can be integrated, customization such as changing LED configurations according to the world view of individual original titles or mounting a touch sensor are also possible.
Specifications *Subject to change during development.
| | |
| --- | --- |
| Dimensions | 170×47×1125mm (W×D×H) |
| Weight | Approx. 1.1kg |
| Sensors | 6-axis (acceleration, angular velocity)) |
| Connectivity | Wi-Fi (IEEE 802.11a/b/g/n/ac) |
| Power | Lithium-ion Battery |
| Operating Time | Approx. 1.5 hours (It varies depending on usage situation) |
| Application OS Compatibility | iOS/Android |
A selection of high resolution images can be found at the link below.
https://s3-ap-northeast-1.amazonaws.com/cerevo-share/180109_image_elucidator.zip
Cerevo @CES 2018 Booth Information:
Exhibition Period: 9th to 12th January 2018
Booth: Sands Expo, Level 2, Halls A-D – 43307
Open Exhibition Grounds map
CES 2018 details: https://www.ces.tech/
Official Show Locations: https://www.ces.tech/Show-Floor/Locations

日本語プレスリリースはこちら
About Cerevo
Cerevo Inc. (Consumer Electronic REVOlution) was founded in 2008 and is located in Tokyo, Japan with a branch office in Redmond, WA, USA. Cerevo is a small batch company focusing on making unique networked devices and connected solutions for both consumer and professional users based on its "Global Niche" concept. Cerevo's products have been recognized globally and are sold in more than 65 countries.
Over 25 products have been released including, CEREVO CAM – a digital camera with internet connectivity, the LiveShell series – devices to enable live streaming on Ustream and YouTube Live using only a video camera, LiveWedge – a 4 input HDMI switcher with live streaming capabilities, Tipron – a smart robot projector for homes or businesses, and the XON series of smart sports products. For more information, please visit – http://cerevo.com
Press Contact:
Chitose Nii, Global Communications,
Cerevo Inc.
press-global@cerevo.com
https://www.instagram.com/cerevo_global/
https://www.facebook.com/CerevoGlobal
https://twitter.com/CerevoGlobal
Press Release/Alert:
https://info-en-blog.cerevo.com/
Cerevo Online Store
http://gstore.cerevo.com/
©2017 REKI KAWAHARA/KADOKAWA CORPORATION AMW/SAO-A Project