23rd June 2017 –
1/8 TACHIKOMA now has a new "Quadrupedal Walk" function, just like the original animation "Ghost in the Shell"
The World Tour continues with 1/8 TACHIKOMA travelling to Anime Expo (LA),
Japan Expo (Paris) and CCG Expo (Shanghai)
Also get special 1/8 TACHIKOMA items at each destination!

*Description added to avoid misunderstanding – Please note that current language support for 1/8 Tachikoma is ONLY Japanese for output via the smartphone app or internal speaker. Tachikoma supports both Japanese and English input via the smartphone app or internal microphone. [As of 14th August 2017]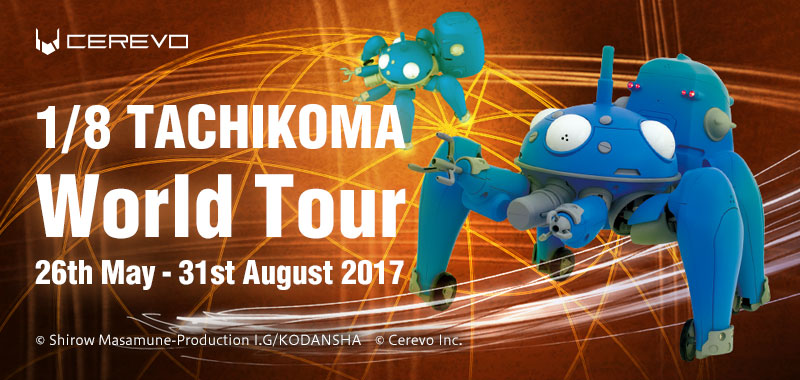 Cerevo Inc., an Internet connected consumer electronics manufacturer headquartered in Tokyo Japan, announces that 1/8 TACHIKOMA (Product name:攻殻機動隊 Ghost In The Shell S.A.C. TACHIKOMA 1/8 scale Moving, Talking and Synchronizing) now has an additional new function, "quadrupedal walking" just like in the original animation, "Ghost in the Shell".
Cerevo's TACHIKOMA, a smart toy replica of the AI robotic weapons platform that appears in the animation "Ghost in the Shell" is fully mobile and can move around by it's own robotic feet and wheels. Users can converse with it using the companion cloud-linked smartphone app.
"Oh look, Tachikoma now walks just like in the anime!"

Cerevo took extra time to add the quadrupedal walking feature in addition to the existing running on wheels feature, and also further improved the durability of TACHIKOMA. Both modes of motion can operated through the companion smartphone app, so TACHIKOMA can now can move via its wheels and walk with its legs. The walking function will be continuously enhanced with constant tune-ups by Cerevo going forward for no additional fee. Currently TACHIKOMA is scheduled to be delivered to customers from late August 2017, pre-orders will be fulfilled in order with the earliest pre-orders receiving their TACHIKOMA first.
Also Cerevo continues the special campaign "1/8 TACHIKOMA WORLD TOUR" which was started in May to celebrate its global debut and will be showing off the new walking function at major global events such as Anime Expo (Los Angeles), Japan Expo (Paris) and CCG Expo (Shanghai), extending the world tour to more cities after past events in both London and Dusseldorf.
Campaign Name:  "1/8 TACHIKOMA WORLD TOUR"
Period:     9:00am (CEST) 26th May –  23:59 am (PDT) 31st August 2017


[UPDATED]
Schedules:
Anime Expo (LA, US) 1st July – 4th July
http://www.anime-expo.org   Booth #5111 in the Premium booth, South Hall
Japan Expo (Paris, France) 6th July – 9th July
http://www.japan-expo-france.jp/jp/ Booth #B134  "Ghost in the Shell" with Anime Limited
CCG EXPO 2017 (Shanghai, China) 6th July -10th July
http://www.ccgexpo.cn/  Booth #B-6 with Shanghai Comicsoul Trading Co.,Ltd
15th China Joy (Shanghai, China) 27th July -30th July
http://www.chinajoy.net/ Booth #D304  with Hangzhou Mokoo Communication Co.,Ltd
*The schedule is subject to change without prior notice.
Fans should follow or like Cerevo's global social media accounts to get special 1/8 TACHIKOMA items on site at each location. When they post a 1/8 TACHIKOMA photo or video on social media accounts they need to include the designated hashtag #Cerevo (they can add any other related hashtag they like).
Applicable product: 1/8 TACHIKOMA

Follow/like Cerevo Global's social media accounts (on either Instagram, Twitter or Facebook):
Receive a special 1/8 TACHIKOMA canvas tote bag x1 & clear plastic folder x1
– Make sure to follow or like Cerevo Global's social media accounts on your identifiable social media account (anonymous/private accounts are not eligible for this campaign)
– Use the QR code to follow Cerevo's Twitter account (QR codes for Cerevo's Instagram and Facebook accounts are also available)
* One set (consisting of 1 clear plastic and 1 tote bag) of giveaway items per person.
* There is a maximum number of giveaways per day and they will be fulfilled on a first come first serve basis.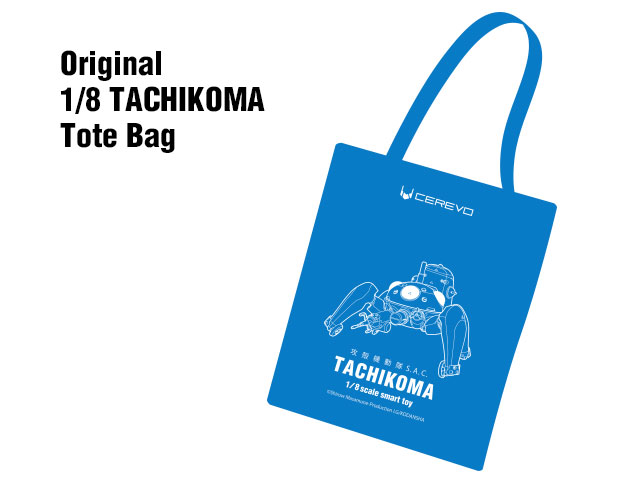 1/8 TACHIKOMA
News Release | Product page
News Release of the World Tour #1
About Cerevo
Cerevo Inc. (Consumer Electronic REVOlution) was founded in 2008 and is located in Tokyo, Japan with a branch office in Redmond, WA, USA. Cerevo is a small batch company focusing on making unique networked devices and connected solutions for both consumer and professional users based on its "Global Niche" concept. Cerevo's products have been recognized globally and are sold in more than 60 countries.
Over 25 products have been released including, CEREVO CAM – a digital camera with internet connectivity, the LiveShell series – devices to enable live streaming on Ustream and YouTube Live using only a video camera, LiveWedge – a 4 input HDMI switcher with live streaming capabilities, Tipron – a smart robot projector for homes or businesses, and the XON series of smart sports products. For more information, please visit – http://cerevo.com
Press Contact:
Cerevo Inc.
Chitose Nii, Global Communication
press-global@cerevo.com
https://www.instagram.com/cerevo_global/
https://www.facebook.com/CerevoGlobal
https://twitter.com/CerevoGlobal
Press Release/Alert:
https://info-en-blog.cerevo.com/ツ
Cerevo Online Store
http://gstore.cerevo.com/