15th March 2018 –
Cerevo, an Internet connected consumer electronics manufacturer based in Tokyo, Japan, is happy to announce that its FlexTally wired and wireless tally lamp system is now being displayed and demonstrated with Blackmagic Design's ATEM live video switcher at Blackmagic Design's showroom in Tokyo.
Blackmagic Design Pty. Ltd.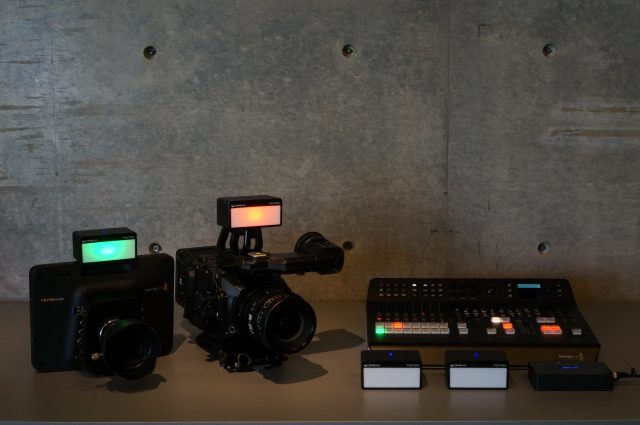 Blackmagic Design Showroom Display
FlexTally Product Page
Blackmagic Design is one of the world's leading manufacturers who is known for its affordable high-end video editing workstations, and its ATEM Television Studio series and ATEM Production studio 4K series of video switchers are fully compatible with FlexTally.
The showroom is located in Blackmagic Design's Japan office, and is open for customers to visit. An advance reservation is required when visiting the showroom. Please feel free to contact the office prior to your visit.
FlexTally Display at Blackmagic Desgin Showroom
Blackmagic Design Pty. Ltd.
4-7-2, Komaba, Meguro-ku,
Tokyo Japan 153-0041
Tel:+81 3 5465 2101
https://www.blackmagicdesign.com
About Cerevo
Cerevo Inc. (Consumer Electronic REVOlution) was founded in 2008 and is located in Tokyo, Japan with a branch office in Redmond, WA, USA. Cerevo is a small batch company focusing on making unique networked devices and connected solutions for both consumer and professional users based on its "Global Niche" concept. Cerevo's products have been recognized globally and are sold in more than 70 countries.
Over 25 products have been released including, CEREVO CAM – a digital camera with internet connectivity, the LiveShell series – devices to enable live streaming on Ustream and YouTube Live using only a video camera, LiveWedge – a 4 input HDMI switcher with live streaming capabilities, Tipron – a smart robot projector for homes or businesses, and the XON series of smart sports products. For more information, please visit – http://cerevo.com

Press Contact
Cerevo Inc.
press-global@cerevo.com
https://www.facebook.com/CerevoGlobal
https://twitter.com/CerevoGlobal
https://www.instagram.com/cerevo_global/

Support Contact:
support-global@cerevo.com
Cerevo Online Store
http://gstore.cerevo.com/
※日本語のお知らせはこちら