FOR IMMEDIATE RELEASE
5th January 2016, Tokyo
Tipron, a transforming, Internet connected projection robot will be exhibited at CES Unveiled from 4th January and at CES 2016 from 6th January in Las Vegas, USA
Cerevo, an Internet connected consumer electronics developer and creator, is pleased to announce Tipron, a transforming, Internet connected projection robot.  Tipron will be exhibited at CES Unveiled from 4th January and at CES 2016 from 6th January in Las Vegas, USA and will be available to purchase later in 2016.
Tipron
https://tipron.cerevo.com/
Tipron is a home robot that can automatically project an 80 inch screen from a distance of 3 meters. Its transforming function allows it to project at a variety of different heights and angles and contract to a compact size when not in use. Tipron will automatically adjust its height depending on its current operating mode, for example, Tipron can contract to 40 cm height when charging and moving, then expand to 80 cm when projecting or shooting images. Furthermore, images and video up to 1m high can be projected by adjusting the projection angle.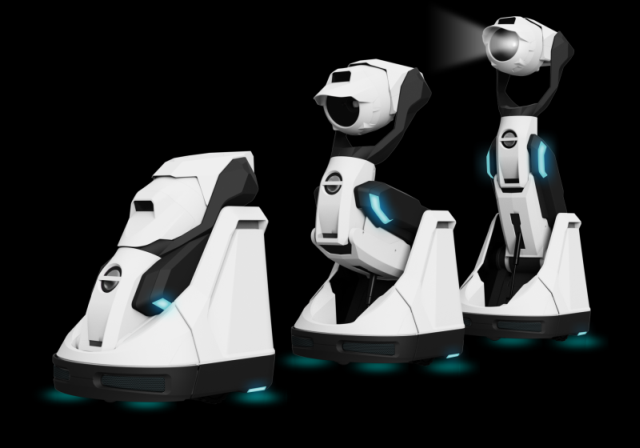 Tipron's projector unit can adjust roll, pitch and yaw and features keystone correction so you can project distortion free images and videos to any place on a wall or ceiling. The built in speaker allows you to watch videos without the need for any additional hardware.
Tipron can move to designated places automatically and will return to it's charging station automatically when it needs to recharge. You can use the Tipron smartphone app to move to specific locations at set times of the day. Also the app can manually remote control Tipron with the live camera video feed being streamed to your smartphone.
Using Tipron's built in HDCP compatible HDMI socket it is possible to connect and project video from a PC, game console, Blu-Ray player or other media device. You could also connect a wireless streaming device such as Chromecast to enable projection of internet content to any location in your home.
Tipron also features a host of internet connection features. You can register a Twitter hashtag, timeline or news and display that information at a desired location and time.  For example, register a hashtag for a live sports match and Tipron can automatically move next to the TV when the sports match starts, then project the hash tagged messages on the wall. This is possible every time the sports match starts. Internet connected functions will be improved and added so various video streaming services can be used with Tipron.
Specifications (Subject to change during development)
Display size: max. 80 inch (at 3m projection distance)
Max. resolution: HD (1280×720)
Projector brightness: 250 lm
Image adjustment: keystone correction, auto focus
Projector range of movement: up/down (pitch axis) -65/+90 degrees, left/right (yaw axis) ±90 degrees, rotation (roll axis) ±90 degrees
Speaker: Monaural
Image input: HDMI (HDCP compatible)
Connection Terminal: USB (battery charging)
Wireless LAN: IEEE 802.11b/g/n
App OS Support: Android
Battery: 3000mAh
Charging time: approx. 2 hours (per battery)
Operating time: 2 hours (with 2 batteries installed)
Body size: w300mm x d340mm x h400mm (compact mode), w300mm x d330mm x h800mm (after transforming)
Weight: TBA
Equipped sensors: IR distance camera, ultrasonic obstacle sensor, video/still camera (5MP)
Press Images
A selection of high resolution images can be found at the link below.
https://s3-ap-northeast-1.amazonaws.com/cerevo-share/image_Tipron.zip
Cerevo's CES 2016 press kit can be found at the link below.
https://s3-ap-northeast-1.amazonaws.com/cerevo-share/image_ces2016.zip
Exhibition Information
Event Name: CES 2016
Exhibition Period: 6th January to 9th January 2016
Cerevo Booth Address: Sands, Halls A-C – 74538
Please see the below URL for more details.
Cerevo Inc. | Map Your Show
http://ces16.mapyourshow.com/7_0/exhibitor/exhibitor-details.cfm?ExhID=T0010615
About Cerevo
Cerevo Inc. (Consumer Electronic REVOlution) is located in Akihabara, Tokyo, Japan with a branch office in Redmond, WA, USA. Cerevo focuses on creating networked devices for consumer and professional users. Cerevo's products have been recognized globally for their unique connected solutions.
Cerevo has developed and released CEREVO CAM – a digital camera with internet connectivity, the LiveShell series – devices to enable live streaming on Ustream and YouTube using only a digital camera, SmartTrigger – a Bluetooth remote to enable the release of your digital camera shutter from your smartphone, LiveWedge – a 4 input HDMI switcher with live streaming capabilities and the XON series of smart sports products. These products are sold in more than 45 countries. For more information, please visit – http://cerevo.com
Press Contact
Cerevo Inc.
info-usa@cerevo.com
https://www.facebook.com/CerevoUSA
https://twitter.com/CerevoUSA