13th September, 2017 –
Cerevo at IBC2017
Exhibiting the expanded lineup of its leading streaming products and IoT devices
– Featuring "FlexTally", the wireless tally lamp for small & professional crews –
Cerevo, an Internet connected consumer electronics manufacturer based in Tokyo, Japan, will be exhibiting its latest IoT devices at The World's Leading Media, Entertainment & Technology Show, IBC2017 in Amsterdam, in the Netherlands from 15th-19th September 2017. (Cerevo Booth information at the bottom Hall 2, C41)
Cerevo's product lineup will mainly focus on its latest market-leading streaming devices and IoT solutions including, LiveShell X – a 1080p H.265 live streaming encoder, LiveWedge – the award winning 4 input switcher, HDMI video mixer, streamer and recorder, XON REC-1 with LOG-1 – a connected sports action camera with smart sensor technology that enables you to capture, record and analyze your traveling data in real-time, and Tipron – a transforming Internet connected smart projection home robot for homes and businesses. You can have an in-depth conversation with the experienced Cerevo staff and enjoy the hands-on demonstration.
---
Product Overview
FlexTally
"FlexTally" is a tally lamp system which was designed for easy operability and is available at a price range that means even small studios or streaming sites can look to add it to their multi-camera setups. FlexTally can be used via either wireless or wired connections for added convenience and its built-in battery in the lamp unit allows for portability and use in remote shooting locations.
It is scheduled to be available for purchase this Autumn at the Official Cerevo Store as well as Amazon.com for approximately €549 (Incl.VAT) and a standard package contains one station unit and four lamp units). https://flextally.cerevo.com/


LiveWedge
LiveWedge is the the award winning live streaming video switcher, mixer and recorder with 4x HDMI inputs. It also broadcasts live video simultaneously via the Internet. Easy user control is available via the free LiveWedge companion iOS/Android tablet app. It also supports PinP and chroma keying as well as all basic transitions such as wipe, fade, cut etc. €1,149 (Incl.VAT) http://livewedge.cerevo.com/
LiveShell X
LiveShell X is the latest and most advanced model in Cerevo's line of award-winning LiveShell devices. It supports live broadcast streaming without a PC through HDMI input encoding at up to 1080/60p in H.265 or H.264 and real time recording via microSD and multicasting with up to 3 simultaneous streams. LiveShell X provides stable, professional quality streaming. It also supports simultaneous multi-streaming and the ability to add subtitles and lower third graphics. It is available at the Official Cerevo Store for €799 (Incl.VAT).  https://s.cerevo.com/x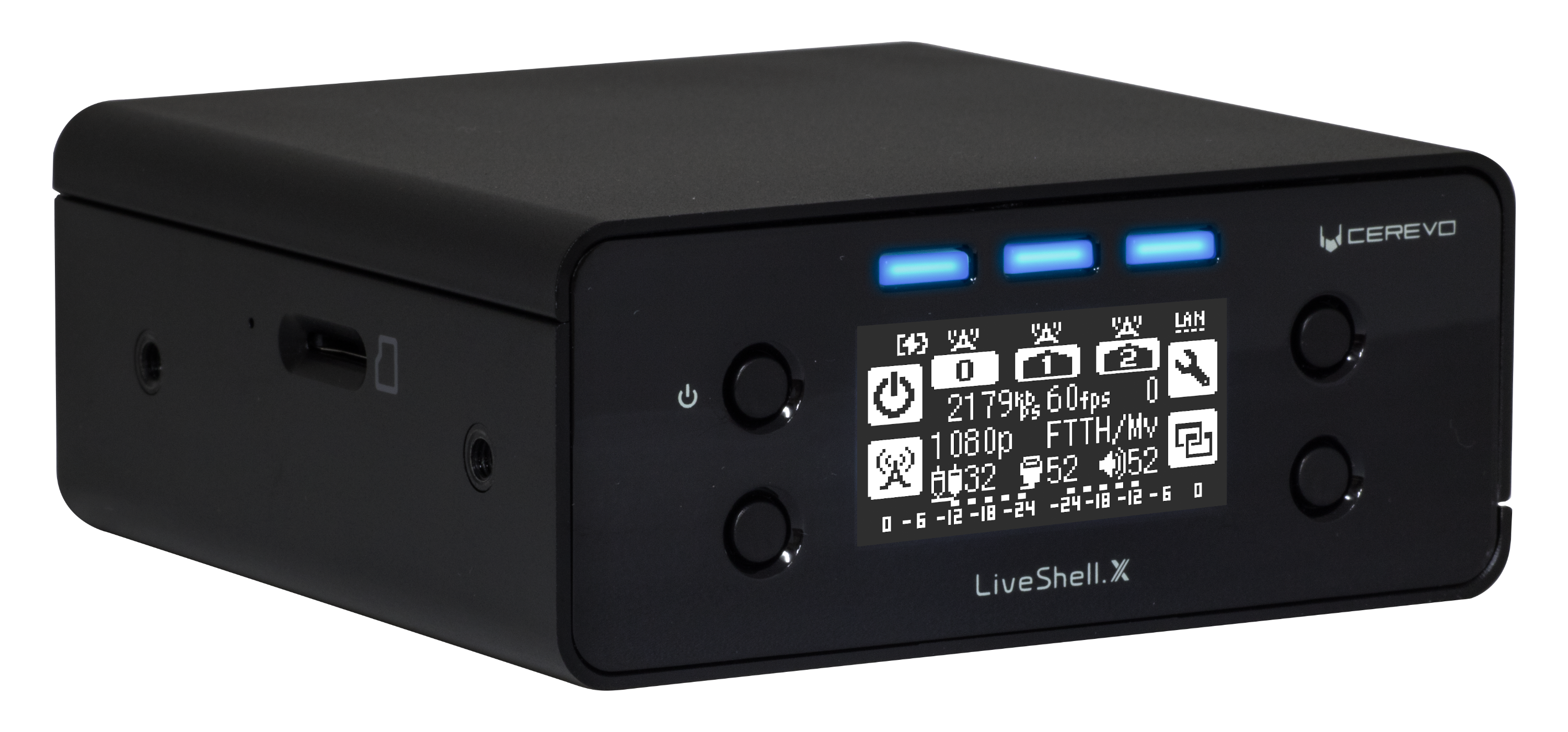 LiveShell PRO
LiveShell PRO is the Mid-range live streaming device supporting analog inputs as well as HDMI. The LiveShell PRO is a mid-range wireless video streamer. Video and audio is encoded in H.264 and AAC at 720p resolution and up to 10 Mbps bit rate. The replaceable, rechargeable battery allows you to broadcast from anywhere with an internet connection. €499 (Incl.VAT) https://s.cerevo.com/pro/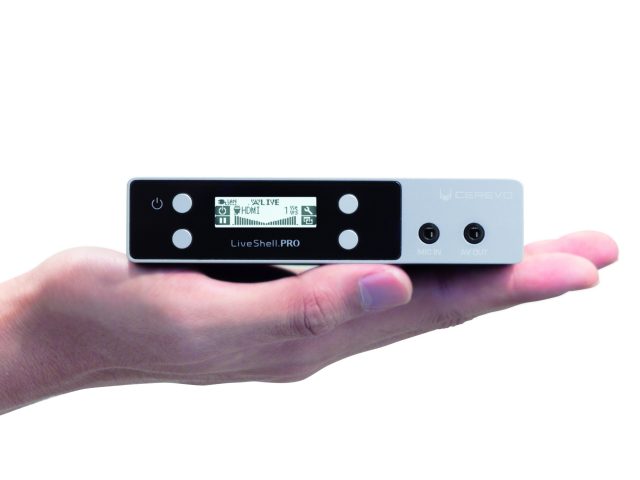 LiveShell 2
https://s.cerevo.com/s2/
LiveShell 2 is the world's most cost effective PC-less live streaming device
The successor to "LiveShell", Cerevo's highly regarded live streaming device that was first released in 2011. This model retains the compact and portable design of its predecessor while adding support for HD streaming. Live streaming is possible via wired LAN or Wi-Fi (IEEE 802.11a/b/g/n/ac). The addition of 5GHz Wi-Fi support means stable streaming is possible even in bandwidth-congested areas.  €349 (Incl.VAT)
XON REC-1 and LOG-1
REC-1 is the newest member of Cerevo's XON series smart-sports device. It is a full HD sports camera that is bundled with a small mountable 6-axis external sensor, LOG-1. Sensor data from LOG-1 can be overlaid onto REC-1's 1080p60 video, creating a complete picture of your sports activity. For example, you can combine a first person video of your cycling or motor sports racing with acceleration, braking, turning and location data. You can view more information on REC-1 and LOG-1 here. http://rec1.cerevo.com/
The external sensor is also available separately as a single unit  for €99 (Incl.VAT), and the bundle is available for €299 (Incl.VAT).  Both packages are available at the Official Cerevo Store and on Amazon.com.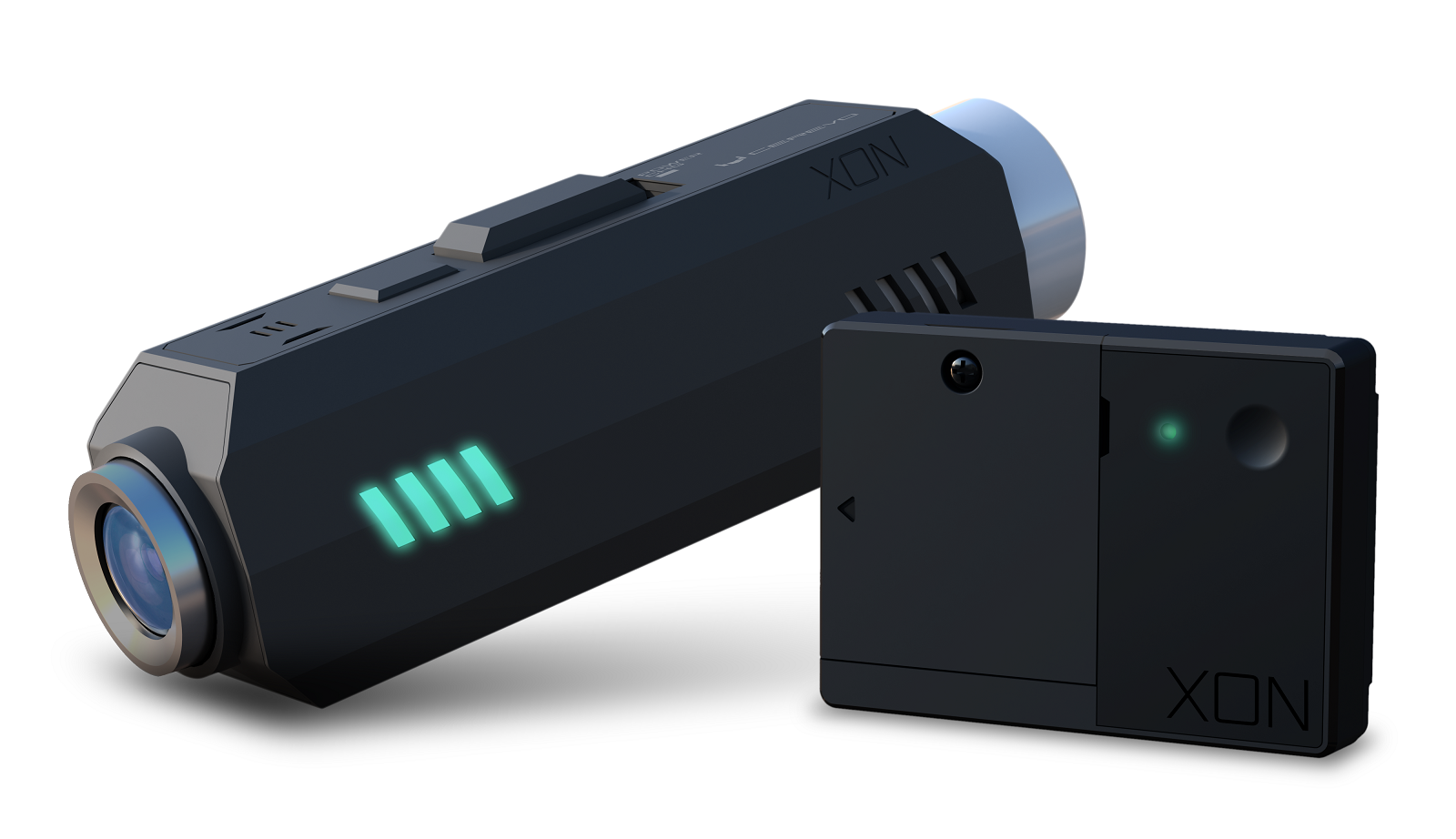 Tipron
Tipron was developed based on the concept to turn all the walls, floors and ceilings in your home into displays, providing a new experience for visual media consumption and it is available at the Official Cerevo Store as well as Amazon. Tipron can  automatically project an 80 inch HD screen from a distance of 3 meters. Its transforming function allows it to project at a variety of different heights and angles and contract to a compact size when not in use. Tipron will automatically adjust its height depending on its current operating mode, for example, Tipron can contract to a compact size when charging and moving, then expand to 80 cm when projecting images or video. Tipron comes with built-in speakers and supports a variety of audio of video playback functions. It has a HDCP compatible HDMI input to project video from PC's, game consoles or video players, Tipron can also take advantage of wireless video streamers such as Chromecast to project internet videos. You can view more information on Tipron at – http://tipron.cerevo.com/
IBC2017 https://show.ibc.org/
Cerevo Booth Information:
Exhibition Period: 15th to 19th September 2017
Cerevo Booth: Hall 2, C41
Venue: RAI AMSTERDAM, Netherlands
About Cerevo
Cerevo Inc. was founded in 2008 and is located in Tokyo, Japan with a branch office in Redmond, WA, USA. Cerevo is a small batch company focusing on making unique networked devices and connected solutions for both consumer and professional users based on its "Global Niche" concept. Cerevo's products have been recognized globally and are sold in more than 60 countries.
Over 25 products have been released including,  the LiveShell series – devices to enable live streaming on Ustream and YouTube Live using only a video camera, LiveWedge – a 4 input HDMI switcher with live streaming capabilities, Tipron – a smart robot projector for homes or businesses, and the XON series of smart sports products. For more information, please visit – http://cerevo.com

Press Contact
Cerevo Inc.
Chitose Nii, Global Communications
press-global@cerevo.com
https://www.facebook.com/CerevoGlobal
https://twitter.com/CerevoGlobal
https://www.instagram.com/cerevo_global/
Press Release/Alert:  https://info-en-blog.cerevo.com/ 
Cerevo Online Store
http://gstore.cerevo.com