FOR IMMEDIATE RELEASE
9th December 2016, Tokyo
Cerevo announces "Tipron", a transforming, Internet connected projection home robot to launch globally
Turning all the walls and ceilings in your home into displays
Cerevo, an Internet connected consumer electronics developer and creator, is pleased to announce the global launch of Tipron, a transforming, Internet connected projection robot. Tipron will be available for pre-order today at the Official Cerevo Store as well as Amazon.com for US$2,299.00 and the product is currently scheduled to ship in January 2017. It will also be available for purchase at b8ta Santa Monica starting from 10th December 2016.
Tipron
https://tipron.cerevo.com/
Tipron was developed based on the concept to turn all the walls, floors and ceilings in your home into displays, providing a new experience for visual media consumption. Tipron can automatically move and project visual content on a wall or ceiling in your house at a designated time and day as if they are tuned into displays.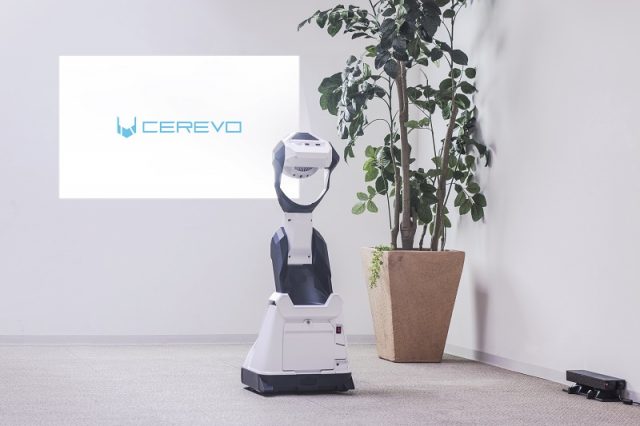 Tipron can automatically project an 80 inch HD screen from a distance of 3 meters. Its transforming function allows it to project at a variety of different heights and angles and contract to a compact size when not in use. Tipron will automatically adjust its height depending on its current operating mode, for example, Tipron can contract to a compact size when charging and moving, then expand to 80 cm when projecting images or video.
Tipron's projector unit can adjust roll, pitch and yaw (up/down -35/+90 degrees and left/right ±90 degrees) and features automatic keystone correction so you can project distortion free images and videos to any place on a wall or ceiling with auto-focusing. It also has a built in 5 watt speaker.
Tipron is operated via its dedicated smartphone app. You can specify the location, time and projection content, then Tipron will automatically move to the specified place and project information to the specified wall, floor, ceiling or other places at set times of the day.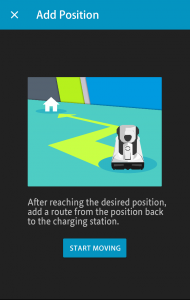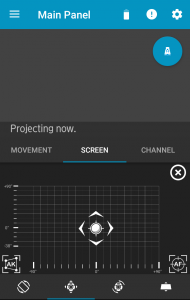 There is also a pre-schedule function of those actions. For example, you can project a relaxing YouTube video from 7:00 to 7:30 am every morning on the ceiling of your bedroom and you can also project the morning news headlines to the living room wall from 7:30 to 8:00 am using a news site RSS feed. Tipron returns to it's charging station automatically to a preset location when it needs or when it finishes all scheduled actions.
The app can manually remote control Tipron with a live camera video feed being streamed to your smartphone, also you can move  it to any location without setting a schedule. The battery life is 2 hours (*1) maximum for one battery. Two batteries can be installed in the main unit and the battery life for two batteries together is 4 hours (*1) maximum. The extra battery is planned to be sold separately, and the price  at the Official Cerevo Store is US$149.

Using Tipron's built in HDCP compatible HDMI socket it is possible to connect and project video from a PC, video recorder, game console, Blu-Ray player or other media device. In addition to the function to display YouTube and RSS reader only on the main unit, you can also connect a wireless streaming device such as Chromecast or Miracast to enable projection of internet content to any location in your home.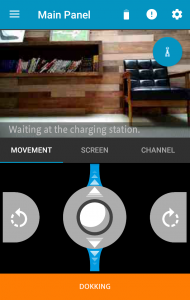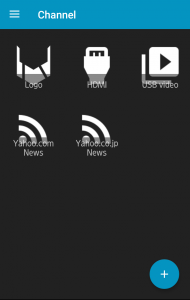 Tipron is not a home robot that aimed to replace TV or home projector. TV and existing home projectors require your "active operation" and it is not so easy to move the location around. While smartphone enables users enjoy personal content wherever they like, it requires "active operation" more than TV does in addition to a smaller screen.
Tipron is an unprecedented home robot that delivers information enriching people's lives at various places in the home fitting on their lifestyle using a "Zero UI" concept which requires no "active operation".
▼Specifications
Display size
/ Image input
Max. 80 inch 

(

at 3m projection distance

)

 / HDMI 

(

HDCP compatible

)

Image adjustment
Auto keystone correction, Auto focus
Max. Resolution/Projector brightness
HD 

(

1280×720

)

 / Max250lm
Projector range of movement
up/down 

(

pitch axis

)

 -35/+90 degrees

,

 left/right 

(

yaw axis

)

 ±90 degrees

,

 rotation 

(

roll axis

)

 ±90 degrees
Speaker
Monaural (5W)
Recommended video format
H.264/AAC, 1280×720(dot)
Wi-Fi
IEEE 802.11b/g/n
App OS Support
Android 4.4〜(supported), iOS10.0〜(recommended)
Battery/Connection Terminal
5

,

900mAh 

(

per battery

)

 *2/ USB (battery charging, power)
Charging Time
/Operating Time
Approx. 2 hours (per battery)*2 / Approx. 4 hours 

(using two b

atteries)*1*2
Dimensions
w300mm x d340mm x h420mm (compact mode)
w300mm x d330mm x h810mm (after transforming)
Weight approx. 9.5kg (with a battery)
On-board Sensors
IR distance sensor

,

 Depth sensor

,

 Video/still camera 

(

5MP),
9-axis sensor
Accessories
Tipron unit / A battery / A charger station / An AC adapter / A power cable (Type A/BF/C for each piece) / A quick setup guide
MSRP
US$2,299.00/€2,499
*1  When brightness is 50%. If brightness is 100% operating time will be 3 hours.
*2 Tipron can operate using either 1 or 2 batteries. 

Press Images
A selection of high resolution images can be found at the link below. 
https://s3-ap-northeast-1.amazonaws.com/cerevo-share/161209_tipron_image.zip

Official Movie



Cerevo Online Store
http://gstore.cerevo.com/

Exhibition Information  
Event Name: CES 2017
Exhibition Period: 5th January to 8th January 2017
Cerevo Booth Address:  Sands, Halls A-D – 43412
Health & Wellness marketplace
Cerevo Inc. | Map Your Show
http://ces16.mapyourshow.com/7_0/exhibitor/exhibitor-details.cfm?ExhID=T0010615
※日本語プレスリリース(こちら)
About Cerevo
Cerevo Inc. (Consumer Electronic REVOlution) was founded in 2008 and is located in Tokyo, Japan with a branch office in Redmond, WA, USA. Cerevo is a small batch company focusing on making unique networked devices and connected products and solutions for both consumer and professional users based on its "Global Niche" concept. Cerevo's products have been recognized globally and are sold in more than 55 countries.Over 25 products have been released including, CEREVO CAM – a digital camera with internet connectivity, the LiveShell series – devices to enable live streaming on Ustream and YouTube Live using only a video camera, LiveWedge – a 4 input HDMI switcher with live streaming capabilities, Tipron – a smart robot projector for homes or businesses, and the XON series of smart sports products. For more information, please visit – http://cerevo.com

Press Contact
Cerevo Inc.
press-global@cerevo.com
https://www.facebook.com/CerevoGlobal
https://twitter.com/CerevoGlobal


Support Contact:
support-global@cerevo.com